NEW! World K Series Induction, Reversible and Electromagnetic Brake Motors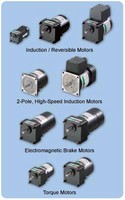 Oriental Motor has expanded it's World K Series AC motor product line. All World K Series models have a built-in overheat protection device and conform to major international safety standards. UL/CSA standards, CE marking and now carry the CCC (China Compulsory Certification system) mark. A Protective Earth terminal has been added for additional safety and the motors conform to the RoHS Directive.

Other new features include new extended bearing life. The life of the motor is affected by its bearings. Oriental Motor has adopted a high-performance bearing grease to lubricate this important component. As a result the bearings of the new World K Series motors last twice as long as our conventional bearings (excluding 1W and 3W models).

Induction Motors
o Ideal for uni-directional continuous operation
o 2-Pole, High-Speed Induction Motors
Perfect for high-speed applications

Electromagnetic Brake Motors
Optimal for applications in which loads must be held. Motors come with a power off activated electromagnetic brake.

Reversible Motors
Suitable for applications where instantaneous reversal of direction is frequently required.

Torque Motors
Ideal for applications such as winding or other operations involving tension control as well as for applications requiring braking.

NEW! Gearheads for World K Series

Long-life Parallel Shaft Gearheads
Adopting innovative technologies and structures, the new "long-life parallel shaft gearheads" achieve a rated life of 10,000 hours, which is twice the life of our conventional gearheads. These reliable gearheads reduce maintenance on your equipment. The new gearheads also conform to the RoHS Directive.

Right-Angle Gearheads
Oriental Motor's right-angle hollow and solid shaft gearheads minimize the installation space on your equipment. Available for the World K Series induction, reversible and electromagnetic brake motors these gearheads now offer an expanded range of gear ratios from 3:1 up to 180:1 and conform to the RoHS Directive.

NEW! FPW Series Watertight, Dust-Resistant Induction Motors
The FPW Series geared induction motors conform to the IEC standard IP67 (recognized by UL). They are ideal for applications where they are splashed with water or exposed to dust.

These watertight motors are available in 1/30 HP (25W), 1/19 HP (40W), 1/12 HP (60W) and 1/8 HP (90W) models and conform to the RoHS Directive. These motors feature superb anti-corrosion properties through a special coating and new shaft material.

Oriental Motor has over 5,000 standard RoHS compliant products and many more can be special ordered to meet your RoHS needs. And each and every product comes standard with our industry-leading QUALITY, SERVICE and DELIVERY! Nearly all of Oriental Motor's products are available in RoHS compliant versions, to search for our standard RoHS products available online click here or call 1-800-GO-VEXTA (468-3982).

More from Controls & Controllers