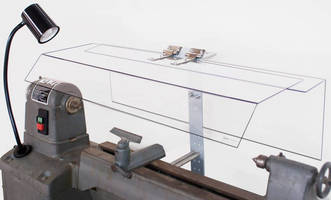 Safeguard Individuals for OSHA and ANSI Compliance

Rockford, Illinois - Danray Products LLC recently introduced a line of heavy-duty wood lathe shields designed for manual wood lathes or similar machines (such as small metalworking lathes). The shield provides a barrier between individuals and the point-of-operation hazard. It also deflects chips as well as minimized the possibility of injury from a thrown workpiece. The shield hinges back and rests at a 45° angle, making it easy to change the workpiece.

These shields comply with the OSHA 29 CFR 1910.213 and ANSI O1.1 safety standards for woodworking machinery.