New Wohlhaupter Boring Systems for Hole Roughing and Finishing Applications
Press Release Summary: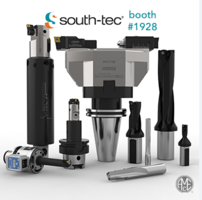 Wohlhaupter boring systems include new vibration dampened intermediate modules, NOVITECH, as well as Vario-Bore, Alu-Line and Combi-Line
4TEX is ideal for applications that include shallow 2xD, 3xD, and 4xD holes in the 0.472" – 1.850" range
Solid carbide drills are available in wide diameter range of 3mm to 20mm
---
Original Press Release:
Allied Machine Features Wohlhaupter and More at SOUTHTEC 2019
See their vast line-up of modular boring systems, solid carbide, and IC drills.
Greenville, South Carolina: (September 20, 2019) ) Allied Machine & Engineering, a global manufacturer of holemaking and finishing cutting tools, shines their spotlight on three product lines at SOUTHTEC October 22nd – 24th in Greenville, South Carolina in booth #1928. See their full line of Wohlhaupter modular boring systems, their newest IC drill, 4TEX, and their Superion solid carbide drills.
Featured Wohlhaupter boring systems include the new vibration dampened intermediate modules, NOVITECH, as well as Vario-Bore, Alu-Line, and Combi-Line. This collection is manufactured in Germany by Wohlhaupter, whose innovative boring systems are now part of Allied's solutions for hole roughing and finishing applications, offering flexibility and modular integration.
The Wohlhaupter NOVITECH vibration dampened intermediate modules significantly reduce chatter in extended-reach boring operations. NOVITECH increases boring operations' productivity, surface quality, and process reliability while extending the insert and machine center's spindle life. The modules feature Wohlhaupter's Multi-Bore connection (MVS), making it simple to use with existing Wohlhaupter components.
The Vario-Bore boring system improves productivity through its ease and accuracy of adjustment, virtually eliminating scrap. The Vario-Bore head can be used alone or with a docking port for use with the universal digital module. With an easy to read and use display that provides micron accurate settings, the module features an accuracy of .0001 inches (0.002mm) on diameter. 
Alu-Line, their light-weight rough and finish boring tools, offers an impressive diameter range stretching from 2.56 – 128.15 inches (65mm – 3255mm). Alu-Line is reported to be up to 50% lighter than steel alternatives currently on the market, resulting in reduced stress on the machine and less runout in extended length boring operations.
Combi-Line gives machinists the power to perform rough and finish operations with a single tool, reducing cycle time and inventory cost. One-pass boring is much quicker in comparison to helical milling or the dual-pass process of roughing followed by a finishing pass.
According to the company, 4TEX excels in drilling operations that include interrupted cuts, inclined work surfaces, and angled breakouts, as well as high-temperature alloys and stainless steels. The indexable carbide drill is engineered to create optimal chip formation for efficient evacuation in holemaking processes and it outperforms other standard drills by delivering higher penetration rates in light-duty machines. 4TEX is ideal for applications that include shallow 2xD, 3xD, and 4xD holes in the 0.472" – 1.850" (12mm - 47mm) range.
Allied Machine has optimized 4TEX's insert geometries for wear resistance and offers them in geometry/coating combinations for all ISO materials including steel, stainless steel, high-temperature alloys, non-ferrous, and iron. Another benefit of its design is that the same insert can be used in either drill pocket, simplifying insert change out. The distinctive insert shape improves surface finish, hole quality and penetration rates, while eliminating issues from chips winding around the tool.
The drill's design touts increased core strength, improving hole size and straightness. The flute space of the internal cutting edge side, where chips often cluster, is 1.6 times larger than typical IC drills. Dual-twisted coolant outlets, coupled with the increased flute space, improve penetration rates by enhancing coolant flow and generating optimal chip extraction.
The company will also display the depth and breadth of their Superion brand solid carbide drills, burnishing drills and PCD drills. Superion solid carbide drills are offered in a wide diameter range of 3mm – 20mm and depth-to-diameter ratios up to 20xD. Burnishing drills are designed with straight flutes, thinned webs, and have four margins. They are available with or without coolant and are specifically suitable for cast iron and aluminum applications. PCD drills are ideal for use in machining both aerospace and automotive components. They are available in a wafer style that is designed to perform optimally in aluminum applications. PCD drills can be designed with multiple steps and as coolant-through in diameters ranging from 4mm – 20mm.
Visit Allied Machine at SOUTHTEC in booth #1928 to see all their holemaking and finishing solutions. To schedule a free holemaking/finishing consultation with a tooling specialist in your area, call 330.343.4283 or email info@alliedmachine.com. For more information on any Allied Machine and Engineering products mentioned, visit www.alliedmachine.com.
About Allied Machine & Engineering:
Allied Machine & Engineering is a leading manufacturer of holemaking and finishing tooling systems. Allied devotes its advanced engineering and manufacturing capabilities to creating the widest selection of value-added tooling available to metal-cutting industries around the world. Our tooling solutions deliver the lowest cost per hole in a wide range of drilling, reaming, threading, boring, and burnishing applications.
Located in Dover, Ohio, Allied's precision holemaking technologies provide end users worldwide with the highest level of drill performance. Precision engineering and expert application support make Allied the first and best choice for solving complex metal-cutting challenges.
Related