New Wireless Power Developer Kit Comes with 200 W Charger
Press Release Summary: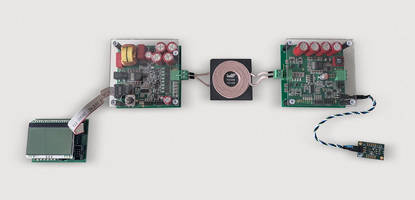 Features I²C interface for sensors on receiver board, and radio modules can be connected on the transmitter board
Uses inductive energy transfer as communication channel
Offers transfer data from receiver device to charging station, bidirectional data transfer and combined with charging process
---
Original Press Release:
Combining Wireless Power and Data Transmission
Wireless power developer kit with innovative communication function
Waldenburg (Germany), 16 July 2020 – Würth Elektronik has extended its "Wireless Power 200 W Extended Medium Power Solution" developer kit to include an innovative function: Although it was already possible to transfer data from the receiver device to the charging station, bidirectional data transfer can now be combined with the charging process. During wireless power transmission, the device and charging station exchange data through amplitude and frequency modulation. Würth Elektronik provides the software for this newly developed wireless solution, including a checksum control - free of charge. A display board can also be ordered as an optional hardware extension of the developer kit.
Würth Elektronik currently offers the widest range of wireless power coils on the market - compliant both with the Qi standard and beyond. "Fast connection without cables and the advantage of being able to build devices encapsulated and without plug connections. This is extremely interesting for developers in the industrial or medical technology sector – as it is too for the manufacturers of smartphones, lawn mower robots or electric scooters," explains Cem Som, Division Manager Wireless Power Transfer at Würth Elektronik. "With our developer kit we now offer options beyond the charging process and use inductive energy transfer as a communication channel."
Small feedback with a big effect
Autonomous vehicles and drones, portable devices and tools can provide feedback via the charging connection: This can be measurement data or status messages from the battery or other components. This is of crucial importance, for example with predictive/preventive maintenance. In turn, the device can receive commands or provide feedback to the user – in the simplest case for optimal alignment of the charging coils.
The kit—developed in cooperation with Infineon—has an I²C interface for sensors on the receiver board, and radio modules can be connected on the transmitter board. "Internet of Things" does not mean that every unit has to communicate via the Internet protocol. By transferring data during charging, devices can become part of a cost-effective IoT solution without having to be permanently 'online' - we are excited to see what ideas we can bring to our customers with the kit," says Cem Som.
The Wireless Power 200 W Developer Kit represents a 200 W charger, but can also serve as a template for higher power solutions. Würth Elektronik advises developers on selecting suitable components and provides free samples.
Available images
The following images can be downloaded from the Internet in printable quality: http://www.htcm.de/kk/wuerth
About the Würth Elektronik eiSos Group
Würth Elektronik eiSos Group is a manufacturer of electronic and electromechanical components for the electronics industry and a technology company that spearheads pioneering electronic solutions. Würth Elektronik eiSos is one of the largest European manufacturers of passive components and is active in 50 countries. Production sites in Europe, Asia and North America supply a growing number of customers worldwide.
The product range includes EMC components, inductors, transformers, RF components, varistors, capacitors, resistors, quartz crystals, oscillators, power modules, Wireless Power Transfer, LEDs, sensors, connectors, power supply elements, switches, push-buttons, connection technology, fuse holders and solutions for wireless data transmission.
The unrivaled service orientation of the company is characterized by the availability of all catalog components from stock without minimum order quantity, free samples and extensive support through technical sales staff and selection tools.
Through its technology partnership with the Audi Sport ABT Schaeffler Formula E Team and its support for the Formula Student racing series, the company demonstrates its innovative strength in eMobility (www.we-speed-up-the-future.com).
Würth Elektronik is part of the Würth Group, the world market leader for assembly and fastening technology. The company employs 7,300 staff and generated sales of 822 million euros in 2019.
Würth Elektronik: more than you expect!
Further information at www.we-online.com
Further information:
Würth Elektronik eiSos GmbH & Co. KG
Sarah Hurst
Max-Eyth-Strasse 1
74638 Waldenburg
Germany
Phone: +49 7942 945-5186
E-mail: sarah.hurst@we-online.de
www.we-online.de
Press contact:
HighTech communications GmbH
Brigitte Basilio
Brunhamstrasse 21
81249 Munich
Germany
Phone: +49 89 500778-20
Telefax: +49 89 500778-77
E-mail: b.basilio@htcm.de
www.htcm.de
More from Fluid & Gas Flow Equipment