New Wilden V150 Velocity Series Pump is Offered in Bore-Seal Design
Press Release Summary: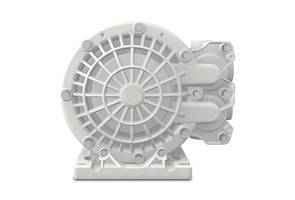 The Wilden® V150 13 mm Velocity Series Pump is suitable for applications such as chemical dosing, surface treatment, lube oil and additive injection. The bore-seal design of the product eliminates leaks caused due to torque decay. The pump is equipped with simple air distribution system that consists of two moving parts. The detachable mounting foot allows the pump to be reoriented into a vertical or horizontal position with multiple inlet or discharge port options.
---
Original Press Release:
New Wilden® V150 Velocity Series Pump Provides Versatility and Reliability for System & Skid Operators
GRAND TERRACE, Calif., Nov. 28, 2018 /PRNewswire/ -- Wilden®, part of PSG® and Dover (NYSE: DOV), and a worldwide leader in air-operated double-diaphragm (AODD) pump technology, has extended its line of specialty AODD pumps with the addition of the new V150 13 mm (1/2") Velocity Series pump. Specifically designed as the complete package for all small-dosing applications – including chemical dosing, surface treatment, lube oil, additive injection, and more – the Velocity Series pump combines complete configuration control with the reliability and performance customers have come to expect with Wilden.
System and skid operators are often tasked with the challenge of finding versatile and reliable pumps that fit into tight spaces without compromising design. Featuring a unique detachable mounting foot, Velocity Series pumps can quickly be reoriented into a vertical or horizontal position with multiple inlet and discharge port options. This enhanced freedom of installation allows the pump to easily connect to any customer's system or piping configuration while perfectly fitting into restricted spaces.
Another key feature of the Velocity Series is a bore-seal design that eliminates leaks that can result from torque decay. It also delivers improved dry suction lift for better priming while incorporating a proven and simple air distribution system (ADS) with only two moving parts that reduces the risk of downtime for long-term reliability. All of these features make the Velocity Series pump an instant and easy upgrade to install.
For more information about Wilden, please visit wildenpump.com. Wilden is a product brand within PSG, a Dover company. For more information on PSG, please visit psgdover.com.
About Wilden Pump and Engineering:
Jim Wilden revolutionized the pumping industry when he invented the air-operated double-diaphragm (AODD) pump in 1955. Since then, Wilden AODD pumps have proven to be trustworthy solutions to pumping applications in a wide variety of industries. Wilden pumps are part of PSG®, a Dover company, and manufactured in Grand Terrace, CA.
About Dover: 
Dover is a diversified global manufacturer with annual revenues of approximately $7 billion. We deliver innovative equipment and components, specialty systems, consumable supplies, software and digital solutions, and support services through three operating segments: Engineered Systems, Fluids, and Refrigeration & Food Equipment. Dover combines global scale with operational agility to lead the markets we serve. Recognized for our entrepreneurial approach for over 60 years, our team of over 24,000 employees takes an ownership mindset, collaborating with customers to redefine what's possible. Headquartered in Downers Grove, Illinois, Dover trades on the New York Stock Exchange under "DOV." Additional information is available at dovercorporation.com.
CONTACT: PSG Contact: Christine Nunez, Marketing Communications Manager, (909) 422-1774, Christine.Nunez@psgdover.com, Dover Media Contact: Adrian Sakowicz, VP, Communications, (630) 743-5039, asakowicz@dovercorp.com, Dover Investor Contact: Andrey Galiuk, VP, Corporate Development and Investor Relations, (630) 743-5131, agaliuk@dovercorp.com
Web Site: https://www.dovercorporation.com
More from Machinery & Machining Tools