New WE-MAPI Power Inductors are Ideal for Use in High-Efficiency Power-Supply Systems
Press Release Summary: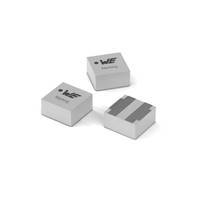 Offer self-screening construction that ensures the best possible EMC performance
Suitable for high-performance DC/DC converters with high efficiency for switching frequencies of up to 20 MHz
Comes with operating temperatures from -55 to +150 °C,
---
Original Press Release:
Würth Elektronik Extends its Portfolio of WE-MAPI Power Inductors
Greatest efficiency, highest temperatures
Waldenburg (Germany), 1 October 2020 – WE-MAPI is one of the world's smallest coiled metal-alloy power inductors. It is characterized by a high saturation current, high permeability, and low resistance. The most important area of applications for the WE-MAPI range are high-performance DC/DC converters with a high efficiency for switching frequencies of up to 20 MHz. New additions to this range are the 5020 and 5030 sizes and the 4020HT version. This module is the new star of the series: with a range of operating temperatures from -55 to +150 °C, the WE-MAPI 4020HT is in a class of its own. What's more, the power inductor also shows AC winding losses 55 per cent lower than those for comparable products on the market.
The other sizes of the AEC-Q 200-qualified power inductors too are perfectly suited for use in mobile devices – operating temperature -40 to +125 °C. All WE-MAPI versions also impress with a saturation current four times higher than that of similarly dimensioned components. The recipe for the success of the WE-MAPI series is the innovative and high-quality finishing of the modules. The coil, made of enameled copper wire, is firmly embedded in a metal-powder alloy, the hybrid bonding system of which reduces the thermal ageing of the component. WE-MAPI components are manufactured entirely without welding or soldering spots and hence do not have any potential weak points. Ni/Sn contact surfaces in the place of clips give the SMT pick-and-placeable power inductor perfect coplanarity and substantially reduce the space requirement. The self-screening construction ensures the best possible EMC performance. A high current rating, low coil losses, low self-heating, and excellent temperature stability – Würth Elektronik has achieved all these advantages with its optimized design of the WE-MAPI inductors.
Applications
Thanks to the extremely reduced dimensions of the WE-MAPI components, they are ideally suited for use in high-efficiency power-supply systems and space-critical applications, for example power-supply units for operating panels and other mobile devices, DC/DC converters for high-current power supplies, DC/DC converters for field programmable gate arrays (FPGAs), or point-of-load (POL) converters. The coils are also ideally suited for use on mainboards and graphics cards, for CPU/RAM power supplies, or in wireless communication devices. All 15 WE-MAPI module sizes are now available from stock, with no minimum order requirements. Würth Elektronik also offers free-of-charge samples and design kits with our restocking service.
Available images
The following images can be downloaded from the Internet in printable quality: http://www.htcm.de/kk/wuerth
About the Würth Elektronik eiSos Group
Würth Elektronik eiSos Group is a manufacturer of electronic and electromechanical components for the electronics industry and a technology company that spearheads pioneering electronic solutions. Würth Elektronik eiSos is one of the largest European manufacturers of passive components and is active in 50 countries. Production sites in Europe, Asia and North America supply a growing number of customers worldwide.
The product range includes EMC components, inductors, transformers, RF components, varistors, capacitors, resistors, quartz crystals, oscillators, power modules, Wireless Power Transfer, LEDs, sensors, connectors, power supply elements, switches, push-buttons, connection technology, fuse holders and solutions for wireless data transmission.
The unrivaled service orientation of the company is characterized by the availability of all catalog components from stock without minimum order quantity, free samples and extensive support through technical sales staff and selection tools.
Through its technology partnership with the Audi Sport ABT Schaeffler Formula E Team and its support for the Formula Student racing series, the company demonstrates its innovative strength in eMobility
(www.we-speed-up-the-future.com).
Würth Elektronik is part of the Würth Group, the world market leader for assembly and fastening technology. The company employs 7,300 staff and generated sales of 822 million euros in 2019.
Würth Elektronik: more than you expect!
Further information at www.we-online.com
Further information:
Würth Elektronik eiSos GmbH & Co. KG
Sarah Hurst
Max-Eyth-Strasse 1
74638 Waldenburg
Germany
Phone: +49 7942 945-5186
E-mail: sarah.hurst@we-online.de
www.we-online.de
Press contact:
HighTech communications GmbH
Brigitte Basilio
Brunhamstrasse 21
81249 Munich
Germany
Phone: +49 89 500778-20
Telefax: +49 89 500778-77
E-mail: b.basilio@htcm.de
www.htcm.de
More from Software