New VTSA-F-CB Valve Manifold Offers Serial Communication
Press Release Summary: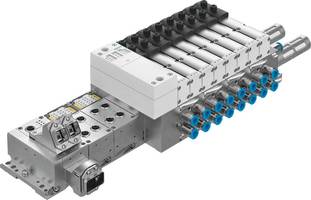 Simplifies installation of PL-d CAT 3 safety systems through C-Bus plug-and-play functionality
Compatible with combinations of pilot air control valves, soft-start exhaust valves, proportional valves, and vacuum generators
Comes with integrated safety and EtherNet/IP connectivity
---
Original Press Release:
Festo Introduces a Unique Valve Manifold with Integrated Safety and EtherNet/IP Connectivity
ISLANDIA, N.Y. (PRWEB) NOVEMBER 11, 2020 - Festo introduces to Rockwell Automation customers at Automation Fair, November 16-20, a unique pneumatic valve manifold that enables up to Performance Level (PL)-d Category 3 safety through an integrated serial bus backplane for pneumatics. The "C-Bus" plug-and-play integration simplifies, speeds up, and lowers component costs when installing pneumatic safety circuits, which are specifically for safe exhausting and preventive start-up.
The new VTSA-F-CB (CB for C-Bus) valve manifold offers serial communication that enables up to three safety-shutdown-groups per manifold. The VTSA-F-CB is compatible with combinations of pilot air control valves, soft-start exhaust valves, proportional valves, and vacuum generators.
"The VTSA-F valve manifold platform, a long-standing product in automotive applications, now offers with its C-Bus variant the ability to control downstream valves and devices via an integrated C-Bus backplane," said Frank Latino, Festo Product Manager. "The VTSA-F-CB can dramatically reduce the number of components and time required to set up a range of safety circuits. The solution provides Rockwell OEMs and end users the ability to control valves with safe switched power zones and to monitor integrated sensors for safety feedback via Ethernet/IP."
Visitors to the Festo virtual booth at Automation Fair will find an informational on-demand video of the VTSA-F-CB, a PowerPoint providing in-depth technical information, and the ability to chat with Festo personnel.
At Automation Fair, Festo also showcases:
The next generation remote pneumatic I/O system CPX-AP-I, which supports improved performance and easy commissioning
CPX-IoT Gateway for IIoT and Industry 4.0 functionality
CPX plus MPA for maximum function integration and serial communication for electrics and pneumatics
IO-Link valves with Rockwell premier integration for fast commissioning and improved diagnostics
And the revolutionary Festo VTEM intelligent valve pack.
Festo has been a proud, recognized partner of Rockwell Automation for over two decades as a supplier of intelligent pneumatic devices. Festo Encompass authorized products can be found on the Festo Encompass webpages. For additional information on other systems at Festo, call 800-993-3786 and/or visit https://www.festo.us.
About Festo
Festo is a leading manufacturer of pneumatic and electromechanical systems, components, and controls for process and industrial automation. For more than 40 years, Festo Corporation has continuously elevated the state of manufacturing with innovations and optimized motion control solutions that deliver higher performing, more profitable automated manufacturing and processing equipment.
Connect with Festo: Facebook, LinkedIn, Twitter and YouTube
More from Cleaning Products & Equipment