New VMA-Q8X8SE Matrix Attenuator is Ideal for Wireless Testing
Press Release Summary: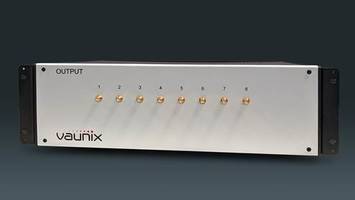 Features full-fan-out design with all paths operating bidirectionally
Users can independently control each of the 64 attenuators
Operates within UHF, L-, S-, and C frequency bands
---
Original Press Release:
8 x 8 Matrix Attenuator Offers 90 dB of Signal Attenuation and an Ultra-fine 0.1 dB Step Size up to 6 GHz
Newburyport, MA – October 15, 2020 – Vaunix Technology Corporation, a leading provider of portable and programmable RF and microwave test devices and handover test systems, has announced the release of their latest Digital Matrix Attenuator for wireless testing.
Operating within frequency bands that include UHF, L-, S-, and C-band (a total coverage of 500 MHz to 6 GHz), model VMA-Q8X8SE is an 8X8 Digital Matrix Attenuator that can be used as a fully programmable wireless handover test system. It features a full-fan-out design with all paths operating bidirectionally.
Inside the space saving 3RU 19-inch rack mount chassis, the user independently controls each of the 64 attenuators providing up to 90 dB of attenuation with an ultra-small step size of just 0.1 dB. The channels can also be easily programmed for fixed attenuation, swept attenuation ramps or custom fading profiles using Vaunix's easy-to-use software and intuitive user interface.
The integrated Windows PC allows for stand-alone operation and control by simply connecting a monitor, keyboard and mouse.  It can also be used as the master controller for other connected instruments to create a highly integrated test platform.  Alternatively, the VMA-Q8x8SE can be connected to the local network to allow for remote access and control.
Handover testing experts, particularly those working in MIMO using complex 5G, Wi-Fi, and Satcom antenna modules will find value in the ease and flexibility of creating test applications.
Request a formal quote and delivery time for a VMA-Q8X8SE by visiting: https://vaunix.com/handover-test-systems/
Vaunix also offers a 64X8 Matrix Attenuator, as well as custom engineered, integrated wireless test systems.
About Vaunix
Based in Newburyport, Massachusetts, Vaunix Technology Corporation designs, manufactures, and services RF and microwave test equipment and communications products. Their Lab Brick product family sets a new standard for portable and programmable test equipment designed with cost, size, and simplicity. These USB powered devices include signal generators, attenuators, phase shifters, and switches. Vaunix's family of integrated rack mount systems include solutions designed to meet any number of wireless performance and budgetary needs.
To learn more, visit www.vaunix.com
Vaunix Contact – Scott Blanchard, sblanchard@vaunix.com
Agency Contact – Lori Fairbrother, lfairbrother@nowspeed.com
More from Software