New Vitron7 cBN Wheels from Norton are Designed for Automotive and Bearing Industry Applications
Press Release Summary: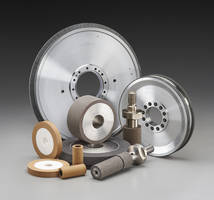 The Vitron7 cBN Wheels are offered with high-precision vitrified bond that is designed for external grinding of cam and crankshafts applications. The units increase grinding productivity and are suitable for applications that require high surface quality and reduced cycle times. The wheel's cBN particles are uniformly dispersed throughout the bond matrix for an increase grinding efficiency.
---
Original Press Release:
New Norton Winter Vitrified cBN Wheels Reduce Costs Per Part While Extending Wheel Life with Less Power
High Performance Vitrified Bond Technology Substantially Increases Grinding Productivity in Automotive and Bearing Industry Applications.
WORCESTER, MA, USA (September 12, 2018) - Saint-Gobain Abrasives, one of the world's largest abrasives manufacturers, announced the introduction of its new Norton Winter Vitron⁷ cBN Grinding Wheels. The wheels feature a high-precision vitrified bond specifically designed for the high performance external grinding of cam and crankshafts and internal grinding applications in automotive and bearing industries. "Our Vitron⁷ wheels provide an ideal solution for the increasing demands of grinding in these applications where high surface quality, reduced cycle times and manufacturing costs are critical," said Bill Lane, Sr. Product Manager, Norton | Saint-Gobain.
At IMTS 2018, Norton Winter Vitron⁷ grinding wheels will be showcased at Norton ׀ Saint-Gobain Booth N-237042 (September 10 – 15, McCormick Place, Chicago, IL). To download a brochure, visit (http://nortonsga.us/vitron7).
Norton Winter Vitron⁷ wheels feature premium cBN grain particles uniformly dispersed throughout the bond matrix for maximum grinding efficiency. This enables manufacturers to achieve substantial increases in the number of finished parts between dress cycles, significantly reducing cycle times and extending wheel life up to 40 percent over existing products. Vitron⁷ wheels also grind cooler due to a lower specific grinding energy (SGE) that ensures minimal residual stress, for superior part quality with surface roughness degradation reductions of up to 30 percent.
 When ID grinding, lower power results in less defection and minimizes taper while maximizing part straightness.
For more information on Norton Winter Vitron⁷ Grinding Wheels and for Norton grinding technical expertise, visit (www.nortonabrasives.com).
ABOUT SAINT-GOBAIN ABRASIVES
Saint-Gobain Abrasives offers powerful, precise, user-friendly solutions, which enable customers to cut, shape and finish all materials in the most complex and challenging applications. By working closely with end-users and grinding expert partners, Saint-Gobain Abrasives designs and provides customized solutions to secure the best option for performance, cost and safety. Leveraging its global manufacturing presence, Saint-Gobain Abrasives serves its customers locally through its structured sales operations in over 27 countries, employing over 10,000 people.
Editorial Contact:
Michael McCue, McCue & Associates LLC
p. 978.733.1353
Norton Contact:
Bill Lane, Norton | Saint-Gobain Abrasives
p. 508.795.5921
e. william.h.lane@saint-gobain.com
More from Communication Systems & Equipment