New Vipro-Head 2-Component Print Head is Based on Continuous Piston Principle
Press Release Summary: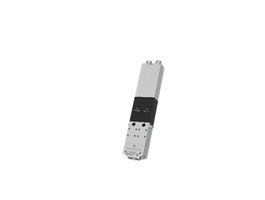 The Vipro-Head 2-Component Print Head is available in 3/3 and 5/5 sizes. The product is designed for viscous fluids and pastes in additive manufacturing industries. The unit features parallel and independently running motors that receive signals from 3D printer. It comes with optional integrated pressure sensors for monitoring output pressure at the static mixer, which automatically stops the dosing process when pressure fluctuations occur.
---
Original Press Release:
New 2-Component Print Head for Viscous Fluids and Pastes - Vipro-HEAD 3/3 as Well as 5/5 Offers New Opportunities in Additive Manufacturing
With the introduction of the 1-component print head vipro-HEAD 3 as well as vipro-HEAD 5, ViscoTec has already responded to the requirements of its customers for the processing of viscous fluids and pastes in 3D printing. The rapid development of additive manufacturing processes is constantly placing new demands on companies involved in 3D printing. ViscoTec has again met the challenges of the industry and developed a new print head for the 3D printing of 2-component fluids and pastes.
The 2-component print head vipro-HEAD 3/3 as well as the 5/5, available in two sizes, will be presented for the first time at formnext, the international trade fair for additive manufacturing. The parallel and independently running motors receive signals directly from the 3D printer. Depending on customer requirements, bleeding screws can be adapted to the print head to facilitate venting during start-up. Optional integrated pressure sensors monitor the output pressure at the static mixer so that the dosing process is automatically stopped in the event of pressure fluctuations. This prevents damage to the rotor and stator as, like all ViscoTec products, the 2-component print head is based on the continuous piston principle. Thanks to this technology, in which rotor and stator play an important role, almost all viscous 2-component fluids and pastes can be dispensed gently and continuously. For optimum mixing of the 2-component material, a wide range of static mixers can also be attached to the print head.
At the formnext trade fair from 13th to 16th November in Frankfurt a. Main you can see the new product live and in colour - in Hall 3.0, Stand H54. Felix Gruber, Business Development Manager, will give a presentation on "Print heads for tomorrow´s fluids" at the TCT Introducing Stage on 14th November at 11:15 am.
ViscoTec – Perfectly dosed!
ViscoTec Pumpen- u. Dosiertechnik GmbH manufactures systems required for conveying, dosing, applying, filling and emptying medium to high-viscosity fluids. The technological leader headquarter is in Töging a. Inn (Bavaria). Furthermore, ViscoTec has subsidiaries in the USA, in China, Singapore and in India and employs about 200 people worldwide. Numerous sales partners all over the world complete the international distribution network. Next to technically sophisticated solutions to even the most complicated application, ViscoTec is the single point of contact to deliver all components for a complete system: from emptying to preparing and to dosing. This guarantees successful interaction of all components. All fluids showing a viscosity of up to 7.000.000 mPas can be conveyed and dosed almost pulsation-free and with extremely low shear. ViscoTec offers comprehensive consulting for every application and, if required, extensive tests will be carried out in close cooperation with the customer. The dosing pumps and systems are perfectly adapted to their respective application whether it is the food sector, the e-mobility industry, the aerospace field, the medical technology, the pharmaceutical industry and many other branches.
Press contact:
Melanie Hintereder, Marketing
ViscoTec Pumpen- u. Dosiertechnik GmbH
Amperstraße 13 | 84513 Töging a. Inn | Germany
Phone +49 8631 9274-404 
melanie.hintereder@viscotec.de
www.viscotec.de

ViscoTec America Inc.
1955 Vaughn Road, Suite 209
Kennesaw, GA 30144
USA
Phone: +1-770-422-4281
E-Mail: sales(@)viscotec-america.com
www.viscotec-america.com
ViscoTec Asia Pte Ltd
18 Boon Lay Way
#09-147, Tradehub 21
Singapore 609966
Singapur
Phone: +65-6569-3629
E-Mail: sales(@)viscotec-asia.com
www.viscotec-asia.com

ViscoTec Shanghai Ltd. / Greater China
Unit A, 2/Floor, Block 3, Lane 1505
No. 100 Zu Chong Zhi Road
Zhangjiang Hi-Tech Park, Pudong District
Shanghai, 201203
P. R. China
Phone: +86 21 3133 8773
E-Mail: sales(@)viscotec-china.com
www.viscotec.com.cn
ViscoTec India Pvt. Ltd.
710 Nucleus Mall, 1 Church Road Pune
Pune 411001
Indien
Phone: +91 20 4104 7135
E-Mail: sales(@)viscotec-india.com
www.viscotec-india.com
More from Construction Equipment and Supplies