New Vintage Encore Medication Carts with Expanded Bumpers to Protect Facility Walls
Press Release Summary: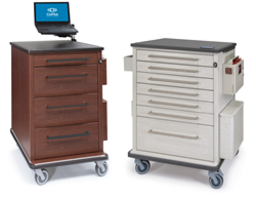 Available in four wood-grain finishes
Includes six cart sizes for punch card delivery and four cart sizes for automated packaging medication delivery to accommodate any resident population
Features soft-close drawers and no-bounce work surface
---
Original Press Release:
Capsa Expands Vintage Encore Medication Cart Line
Capsa Healthcare expands its Vintage Encore furniture-feel medication cart line for senior care facilities
Portland, Ore. (PRWeb) October 28, 2019 -- Capsa Healthcare announces the full expansion of its Vintage Encore medication cart line for senior care environments. Vintage Encore is an evolution of the company's venerable Vintage Mobile furniture-finish medication carts.
Vintage Encore now includes six cart sizes for punch card delivery and four cart sizes for automated packaging medication delivery to accommodate any resident population – small to large. Vintage Encore is also available in four wood-grain finishes to look at-home in any new or renovated senior care facility. Finally, more than 25 options and accessories allow LTC pharmacies and facilities to customize their Vintage Encore carts to suit the local workflow needs.
"Customers using our best-selling Vintage Mobile medication carts have universally loved the redesign of our new Vintage Encore line," says John Himmelstein, Capsa's Senior Vice President. "Vintage Encore includes even more enhancements for nurses to provide excellent care during their medication pass. They are simple to use, well equipped, and durable. On top of the ergonomics, nurses have loved the new styling since Vintage Encore carts are frequently part of the living areas – not just stuffed into a cart room. That's essential because more and more senior care homes are becoming resort-like."
Work-saving features are as important as aesthetics on a Vintage Encore medication cart.
20% improved cart movement
Soft-close drawers
No-bounce work surface
Expanded bumpers to protect facility walls
Complete line of thoughtful accessories and options to mobilize EMR/EHR software and computing devices
Accommodates all popular medication delivery systems including punch card, automated packaging, Dispill®, unit dose box
Capsa will feature Vintage Encore medication carts at the upcoming LeadingAge Annual Convention (October 27-30, San Diego) and ASCP Annual Meeting (November 7-10, Grapevine, TX).
Follow Capsa Healthcare on Facebook (https://www.facebook.com/capsahealthcare/), Twitter (https://twitter.com/CapsaHealthcare), and LinkedIn (https://www.linkedin.com/company/410411/).
About Capsa Healthcare
Capsa Healthcare is a worldwide leader in developing and delivering innovative healthcare solutions for a wide spectrum of care providers. With 50+ years of experience, Capsa Healthcare offers a unique ability to meet the demands of diverse healthcare environments and offers a broad range of products including medication carts, medical carts, point-of-care carts, and pharmacy automation solutions. Headquartered in Portland, OR, Capsa Healthcare has over 400 employees with management, sales, and production offices throughout the world. To learn more, visit http://www.capsahealthcare.com or call 800-437-6633.
Contact Information:
Mike Stotz
Capsa Healthcare
http://www.capsahealthcare.com
+1 847.984.0320
Todd Ross
Capsa Healthcare
http://www.capsahealthcare.com
6143223550
Related