New Vibratory Feeding Technology is Ideal for Handling Fragile and Abrasive Materials
Press Release Summary: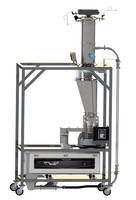 Designed for WZK two-way diverter valve, sanitary, and pharmaceutical applications
Recirculating system consists of V200 hygienic design vibratory feeder, smart weigh belt feeder (SWB) and 2410 sanitary vacuum loader
Features are modular design and several quick change tray options
---
Original Press Release:
Coperion and Coperion K-Tron Debuts New Vibratory Feeding Technology
New Feeding Technology Displayed in Live Feeding and Conveying Demonstration 
Sewell, NJ, USA (June 2019): At this year's Pack Expo 2019 in the Las Vegas, NV, USA Convention Center, Coperion and Coperion K-Tron will present in Booth 7422 a variety of feeding and conveying solutions for bulk solids handling, but the attention will be on the newly redesigned K3 Vibratory Feeder line and its technological advancements. The booth will allow attendees to view the V200 Vibratory Feeder in action while it feeds material from its tray onto a Smart Weigh Belt Feeder (SWB) recirculating material up to a 2410 Vacuum Loader and back down to the vibratory feeder. This display will allow attendees to see first-hand how the new vibrating technology works in action. Other exhibits on display include a Coperion K-Tron twin screw feeder equipped with a unique Electronic Pressure Compensation (EPC) system, Coperion's hygienic ZRD rotary valve which is specially designed for sanitary applications and Coperion's world-wide top-selling WZK two-way diverter valve.
Recirculating Feeding and Conveying System in Action
The recirculating system consists of several components including the new V200 Hygienic Design Vibratory Feeder, a Smart Weigh Belt Feeder (SWB) and 2410 Sanitary Vacuum Loader.
V200 Hygienic Design Vibratory Feeder – Gentle gravimetric feeder ideal for handling fragile materials
When uniform discharge is critical, especially at low rates, the Coperion K-Tron vibratory feeders are ideal for gentle handling of bulk solid materials. Vibratory feeders have proven best for feeding fragile ingredients and problem materials such as finished friable food products and ingredients, fibers and glass fibers. The vibratory feeder is also ideal for abrasive materials such as course powders and granules, and even sensitive products like uncoated tablets. The unit on display will have all new design features including an improved high accuracy and innovative patent-pending drive technology, and will be mounted on a D5 platform scale. The new K3 line of vibratory feeders features a modular design, including several quick change tray options for faster product changeover. The new K3 vibratory feeders will be available in a standard design as well as the hygienic easy clean design being exhibited at the show and also a design suitable for pharmaceutical applications.
Smart Weigh Belt Feeder (SWB) - Gentle high rate feeding, batching and metering
The Coperion K-Tron Smart Weigh Belt Feeder (SWB) is used for continuous controlled gravimetric feeding of free-flowing or friable bulk materials. The feeder can be used for feeding or metering of bulk material flows in both batch and continuous applications. In addition to the primary weigh bridge the SWB features an optional secondary weigh bridge that provides continuous online auto-tare, reducing maintenance and frequency of calibration while improving long term stability. Material weight on the primary weigh deck and belt tare weight on the secondary weigh deck are determined by Coperion K-Tron's patented SFT weighing technology with vibration and temperature immunity, zero deflection and resolution of 1:4,000,000 in 80 ms. The SWB is available in 300 mm and 600 mm belt widths. The SWB-300 and SWB-600 are supplied as open or closed frame.
2410 Sanitary Vacuum Loader – High quality compact loader for efficient handling of pellet and powder materials
Coperion K-Tron vacuum loaders are designed to high quality standards for pneumatically conveying powders, pellets and granular materials for the bulk material handling industries. Vacuum loaders move bulk material short distances to one destination. The 2410 loader on display is stainless steel and is set up with a sanitary butterfly valve discharge for refilling the vibratory feeder below. The loader comes fully equipped with a simple to use LSR Controller.
Additional Equipment on Display Includes:
Electronic Pressure Compensation (EPC) system for high-accuracy loss-in-weight feeders
The main advantages of the Electronic Pressure Compensation (EPC) system include improved accuracy and reliability of the feeder as well as lower initial cost and easier installation compared to traditional mechanical pressure compensation systems. Coperion K-Tron presents a clever but simple electronic solution for accurate and steady pressure compensation in feeder hoppers and outlets. The modular design incorporates pressure sensors and electronics tailored to interact smoothly with Coperion K-Tron's KCM feeder control system. Retrofitting options for existing feeders are available. EPC can be installed on a majority of Coperion K-Tron gravimetric feeders in almost any application and all industries. EPC will be displayed at the show installed on a Coperion K-Tron KT20 Twin Screw Feeder.
Easy Access ZRD Hygienic Rotary Valve - Discharging and metering valve for powders, USDA-certified and EHEDG-compliant
Coperion's ZRD sanitary rotary valves have been approved by the United States Department of Agriculture (USDA) following certification in compliance with the USDA Dairy Grading Branch. Already designed in accordance with the engineering and design guidelines of the EHEDG (European Hygienic Engineering & Design Group), these sanitary rotary valves also meet the current, strict requirements governing use in the USA. The valves can be used for applications demanding even the highest degree of hygiene and cleanliness. In addition, they are distinguished by their extreme reliability in operation. As these rotary valves can be readily inspected and also cleaned quickly and thoroughly, they are ideal for applications involving frequent changeovers from one product to another and/or for the processing of products with adhesive tendencies. Characteristics such as particle size, cohesion and adhesion influence the flow properties of bulk materials and therefore the correct design and layout of bulk material handling components. The ZRD Hygienic Rotary Valve offers an extra-large inlet for high filling efficiency.
WZK Dual Channel Diverter Valve­ for powders and granular products
The Coperion WZK dual channel diverter valve is specially designed for powders and granular products. The unit has an asymmetric design with approximately 35° angle suitable for distributing and collecting in pneumatic conveying lines and in gravity applications. The WZK is designed with pressure assisted seals and is for installation in conveying lines or in gravity pipe applications with pressures up to 73 psi(g) [5 bar(g)].
Coperion is the international market and technology leader in compounding and extrusion systems, feeding and weighing technology, bulk materials handling systems and services. Coperion designs, develops, manufactures and maintains systems, machines and components for the plastics, chemicals, pharmaceutical, food and minerals industries. Within its four divisions – Compounding & Extrusion, Equipment & Systems, Materials Handling and Service – Coperion has 2,500 employees and nearly 30 sales and service companies worldwide. Coperion K-Tron is part of the Equipment & Systems division of Coperion. For more information visit www.coperion.com or email info@coperion.com.
Contact Shari Lake Director of Marketing Coperion K-Tron Salina 606 North Front St. Salina, KS 67401 Telephone +1 (785) 825-3884 Shari.lake@coperion.com www.coperion.com