New VERYX Digital Sorters from Key Technology Comes with Pixel Fusion Technology
Press Release Summary: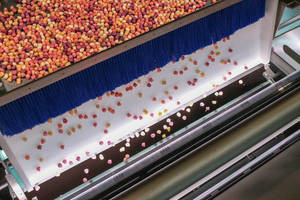 Designed to detect and remove foreign material (FM) and gummies with bits of remaining starch as well as color and shape defects
Enables gummy candy manufacturers to improve product quality by virtually eliminating false rejects
Equipped with front- and rear-mounted cameras, laser scanners and multi-sensor Pixel Fusion™ detection modules
---
Original Press Release:
Key Technology Introduces VERYX® Digital Sorters for Gummy Candies
October 3, 2019 – Key Technology, a member of the Duravant family of operating companies, introduces VERYX® digital sorters for gummy candies. Designed specifically to detect and remove foreign material (FM) and gummies with bits of remaining starch as well as color and shape defects, VERYX enables gummy candy manufacturers to improve product quality and protect their brand while virtually eliminating false rejects to maximize profitability.
"VERYX's unique sensor configuration not only allows for the most thorough all-sided surface inspection, but also offers patented Pixel Fusion® for advanced detection," said Karel Van Velthoven, Advanced Inspection Systems Product Marketing Manager at Key. "Our gummy candy customers with installed VERYX systems are experiencing a sort accuracy that was unseen until now."
VERYX sorts oil-coated, sugar-coated, yogurt-coated and vitamin-enhanced gummy candies. It detects color, size, shape and structural properties to find gummies with bits of remaining starch, even when inspecting milky-white, yogurt-coated candies that are the same color as starch and have a similar texture. It detects all types of FM, including plastic and wood, to give candy manufacturers using plastic or wood trays in their candy-making process assurance that fragments of a broken tray don't get packaged with product. The sorter also detects color defects such as mixed-color gummies and shape defects such as clumps, conjoined gummies, malformed gummies, mold spills and more.
Key optimizes VERYX with the ideal cameras, laser sensors, algorithms and ejection system for gummy candies. Additionally, an application-specific line layout with an optional defect resort system blends Key's expertise in digital sorting and mechanical product handling, further contributing to new standards of performance for gummy candy sorting. This integrated solution combines a chute-fed VERYX sorter with specialized Iso-Flo® and Impulse® vibratory shakers to achieve superior FM/defect removal rates with virtually no false rejects.
Equipped with front- and rear-mounted cameras, laser scanners and multi-sensor Pixel Fusion™ detection modules, VERYX views all sides of the product with no blind spots to find and remove more FM and defects. The next-generation 4-channel cameras and high resolution laser sensors offer twice the resolution of previous sensor technology to see smaller FM and defects, including gummies with bits of remaining starch as small as one square millimeter. Key's unique Pixel Fusion technology combines pixel-level input from multiple cameras and laser sensors to produce higher contrasts, enabling VERYX to find and remove the most difficult-to-detect FM and defects.
Object-based sorting facilitates advanced shape sorting algorithms and intelligent ejection on VERYX. While most gummy candy manufacturers will program their sorter to remove shape defects such as clumps and conjoined gummies, other minor misshaped gummies might actually delight young consumers and may be programmed as acceptable on the sorter. Intelligent ejection improves the accuracy of all FM/defect removal and reduces false rejects. Rather than firing an ejector at the defect itself, VERYX performs contour-based and/or centroid-based calculations to target ejectors at the object's center of mass to ensure FM/defect removal while maximizing yield.
Product changeovers on VERYX are fast and easy. With double-sided Pixel Fusion, the detection system is so advanced, every type of gummy candy can be accurately sorted using the same background so hardware changes are eliminated. VERYX's unique recipe-based sorting takes away the hassle of configuring the sorter for each new type of candy. Changing over to a new gummy shape or color takes only a couple of taps on the touchscreen to load the dedicated recipe. This recipe-driven operation simplifies use and ensures repeatable results so product quality is guaranteed, regardless of personnel changes and across multiple lines and locations.
VERYX can also leverage Key's powerful Information Analytics software, which allows users to analyze and share big data across their enterprise via an OPCUA-compliant infrastructure at the same time they sort. Data about the sort process and about each and every object flowing through the sorter, whether the data is used to make sort decisions or not, is available to reveal patterns, trends and associations. This data can help a processor optimize processes upstream and downstream of the sorter to achieve the next level in operational efficiency.
VERYX is available in multiple sizes to satisfy a range of capacity requirements, with the highest volume system sorting up to five metric tons of gummy candies per hour.
Key manufactures VERYX sorters in both the U.S. and Europe and supports customers worldwide through its global sales and service network. For more information on Key's VERYX, visit www.key.net/products/veryx.
About Key Technology, Inc.
Key Technology is a global leader in the design and manufacture of automation systems including digital sorters, conveyors and other processing equipment. Applying processing knowledge and application expertise, Key helps customers in the food processing and other industries improve quality, increase yield, and reduce cost. Key manufactures its products at its headquarters in Walla Walla, Washington, USA; Beusichem, the Netherlands; Hasselt, Belgium; and Redmond, Oregon, USA. Key's domestic facilities are certified to the ISO 9001:2015 standard. Key offers customer demonstration and testing services at five locations including Walla Walla, Beusichem, and Hasselt as well as Sacramento, California, USA and Melbourne, Australia; and maintains a sales and service office in Santiago de Queretaro, Mexico. Key is a Duravant Company.
About Duravant
Headquartered in Downers Grove, IL, Duravant is a global engineered equipment company with manufacturing, sales and service facilities throughout North America, Europe and Asia. Through their portfolio of operating companies, Duravant delivers trusted end-to-end process solutions for customers and partners through engineering and integration expertise, project management and operational excellence. With worldwide sales distribution and service networks, they provide immediate and lifetime aftermarket support to all the markets they serve in the food processing, packaging and material handling sectors. Duravant's market-leading brands are synonymous with innovation, durability and reliability. Visit www.duravant.com.

-end-

Reader Inquiries:
Shayla Wentz
Key Technology
150 Avery Street
Walla Walla, WA 99362 USA
Tel: +1 509 529 2161
[email protected]
www.key.net

Reader Inquiries:
Karel Van Velthoven
Key Technology
Bedrijfsstraat 6b
B-3500 Hasselt, Belgium
Tel: +32 (0) 11 24 91 91
[email protected]
www.key.net

Editor Inquiries:
Sandra McBride
McBride Public Relations
5 Arastradero Road
Portola Valley, CA 94028 USA
Tel: +1 650 926 9852
[email protected]
www.mcbridepr.com