New VERYX Digital Sorters for Fresh-Cut Leafy Greens Inspects Product In-Air with Top and Bottom Sensors
Press Release Summary: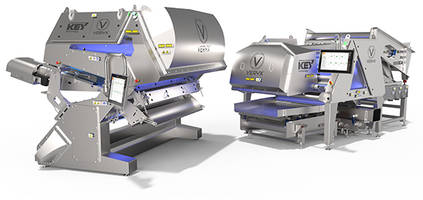 Key Technology's VERYX® Digital Sorters are available in multiple sizes with highest volume system sorting up to 8.2 metric tons. These sorters detect color, shape and structural properties and presence or absence of chlorophyll of every object. The units remove insects, animal parts, paperboard, wood, rocks and plastics. Sorters can be configured to handle products like iceberg, romaine, leafy spinach, cabbage, arugula, frisée, escarole and radicchio. VERYX® sorters feature multi-sensor Pixel Fusion™ advanced detection capability.
---
Original Press Release:
Key Technology Introduces VERYX® Digital Sorters for Fresh-Cut Leafy Greens
August 1, 2018 – Key Technology, a member of the Duravant family of operating companies, introduces VERYX® digital sorters for fresh-cut leafy greens. VERYX is the world's only belt-fed sorter that can inspect product entirely in-air with top and bottom sensors in order to detect and eliminate all foreign material (FM) and product defects. Combining Key's expertise in sorting and conveying, these integrated VERYX systems are specifically designed to handle the challenges of sorting leafy greens. VERYX maximizes sort accuracy to remove more FM and defects while virtually eliminating false rejects, improving food safety and increasing yields simultaneously.
 
"Leafy greens present a sorting challenge because of the way leaves can overlap or clump as they are conveyed through the sorter. The fatal flaw of other sorting systems, in addition to having less effective product handling, is that their top sensors inspect product on the belt. If FM is sandwiched between layers of leaves, it's easily missed because these top sensors won't be able to effectively see through the leaves. VERYX achieves true full-surface inspection of the product stream – no FM can hide from its sensors," said Marco Azzaretti, Advanced Inspection Systems Product Manager at Key. "VERYX systems have been successfully processing leafy greens in facilities worldwide. They're field-proven."
 
Detecting color, size, shape and structural properties of every object, including the presence or absence of chlorophyll, VERYX removes insects and animal parts, paperboard, wood, rocks, plastics, glass and more, as well as defects and blemishes including leaf discoloration, tipburn and leaves that are decayed, wilted or broken. VERYX sorting systems can be configured to handle a wide range of products including iceberg, romaine, leafy spinach, cabbage, arugula, frisée, escarole, radicchio, Belgian endive, mache greens, watercress and various salad mixes.
 
Key tailors each VERYX with the optimal sensor types, sensor positions, lighting, ejection system, product handling and software to meet each customer's specific requirements. Next-generation 4-channel cameras and laser scanners offer twice the resolution of previous sensor technology. For lines that process a variety of leafy greens and salad mixes, fast and accurate recipe-driven changeovers maximize production flexibility and uptime while ensuring repeatable results.
 
VERYX is available in multiple sizes to satisfy the requirements of every leafy green processor, from small to large operations, with the highest volume system sorting up to 8.2 metric tons (18,000 lbs) of fresh-cut leafy greens per hour or more. Featuring an inspection zone that is 15 percent wider than similarly sized sorters, every VERYX offers 10 to 15 percent greater capacity within a similar footprint.
 
VERYX is the only sorter that offers multi-sensor Pixel Fusion™, an advanced detection capability that combines pixel-level input from multiple cameras and laser sensors to more clearly differentiate FM and defects from good product. With Pixel Fusion, VERYX consistently removes the most difficult-to-detect FM and defects without false rejects. It identifies specific FM types, enabling the system to send smart alarms that alert operators if a critical quality problem occurs, so quick corrective action can be taken. The optional FMAlert™ function saves a time-stamped image of every critical piece of FM detected by the sorter, which helps processors document and pinpoint product quality events and trends.
 
Since fresh-cut leafy greens are lightweight and moist when conveyed through the sorting process, they can clump together, overlap and stick to surfaces if not properly handled. Key combines VERYX with the ideal product handling systems for each application to effectively present product to the sorter's inspection zone, maximizing sort accuracy. Application-specific infeeds and collection shakers can serve additional functions, like dewatering and mechanically screening out FM. Optional three-way sorting enables VERYX to optically separate good product into two grades while removing FM and defective product into a reject stream.
 
Designed for long production cycles without manual intervention, VERYX features a unique architecture that strategically positions sensor windows, light sources and sensor backgrounds away from product splatter and contamination zones. Compared to other belt-fed sorters, where sanitation issues degrade sensor detection performance over time, VERYX helps ensure consistent sorting while minimizing sanitation requirements.
 
As the world's most intelligent sorter, VERYX includes smart system capabilities such as auto-learning and self-adjustment algorithms, predictive diagnostics and smart alarms. These features enable VERYX to automatically adapt to normal changes in the product and production environment, maintaining the highest performance while operating unattended during normal operations.
 
To further ease use and simplify operator training, a highly intuitive UI provides different views to users of various levels depending on their needs. Recipe-driven operation ensures customers can count on consistent performance from their VERYX sorter day in, day out, including when running the same product across multiple sorters on different lines. Operator qualification requirements are reduced, allowing a minimally-skilled individual to become a proficient user of the system in less than one hour.
 
Every VERYX sorter can leverage Key's Information Analytics, a powerful set of data acquisition and connectivity capabilities that allow users to gather a broad range of product and operational data from the sorter. Data can be shared for off-line analysis or exchanged directly with a customer's SCADA, Manufacturing Execution System or PLC network.
 
Key manufactures VERYX sorters in both the U.S. and Europe and supports customers worldwide through its global sales and service network.

For more information on Key's VERYX, visit www.key.net/products/veryx.

About Key Technology, Inc.
Key Technology is a global leader in the design and manufacture of automation systems including digital sorters, conveyors and other processing equipment. Applying processing knowledge and application expertise, Key helps customers in the food processing and other industries improve quality, increase yield, and reduce cost. Key manufactures its products at its headquarters in Walla Walla, Washington, USA; Beusichem, the Netherlands; Hasselt, Belgium; and Redmond, Oregon, USA. Key's domestic facilities are certified to the ISO 9001:2015 standard. Key offers customer demonstration and testing services at five locations including Walla Walla, Beusichem, and Hasselt as well as Sacramento, California, USA and Melbourne, Australia; and maintains a sales and service office in Santiago de Queretaro, Mexico. Key is a Duravant Company.
 
About Duravant
Headquartered in Downers Grove, IL, Duravant is a global engineered equipment company with manufacturing, sales and service facilities throughout North America, Europe and Asia. Through their portfolio of operating companies, Duravant delivers trusted end-to-end process solutions for customers and partners through engineering and integration expertise, project management and operational excellence. With worldwide sales distribution and service networks, they provide immediate and lifetime aftermarket support to all the markets they serve in the food processing, packaging and material handling sectors. Duravant's market-leading brands are synonymous with innovation, durability and reliability. Visit www.duravant.com.
Anita Funk
Key Technology
150 Avery Street
Walla Walla, WA 99362 USA
Tel: +1 509 529 2161
afunk@key.net 
www.key.net

Reader Inquiries:
Karel Van Velthoven
Key Technology
Bedrijfsstraat 6b
B-3500 Hasselt, Belgium
Tel: +32 (0) 11 24 91 91
KVanvelthoven@key.net
www.key.net

Editor Inquiries:
Sandra McBride
McBride Public Relations
5 Arastradero Road
Portola Valley, CA 94028 USA
Tel: +1 650 926 9852
feedback@mcbridepr.com
www.mcbridepr.com
More from Machinery & Machining Tools