New Vertical Lift Stages Constructed with Black-anodized Aluminum Alloy
Press Release Summary: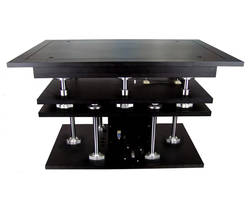 AT20-30 is capable of elevating heavy loads by 30 mm in a low profile design
Features 3.315 microns resolution, 5 microns repeatability and 15 microns positional accuracy
Ideal for manufacturing and assembly, positioning of lab equipment, inspection and sampling
---
Original Press Release:
30 mm Motorized Vertical Lift Stages Have: High Load Capability, High Precision, Stability, and Low Cost!
Van Nuys, CA - OES (Optimal Engineering Systems, Inc.) has added 3 high precision vertical lift stages capable of elevating heavy loads by 30 mm (1.18 in.) in an ultra-low profile design. The rigid box construction of the moving component of the elevator stage travels on six slide rails assuring smooth vertical travel and parallelism of the table and mounting surface at all times. Powered by a two-phase stepper motor the vertical lift stage features: 3.315 microns (full-Step) resolution, 5 microns repeatability, and 15 microns positional accuracy. Motor options include two-phase stepper motor, single phase DC servo motor for low cost closed loop operation, and a 3-phase brushless servo motor for the highest precision and travel speeds.
This high load, 100 kg (220.5 lbs), vertical lift stage can be easily integrated into almost any application. The large 500 mm x 300 mm (19.685 in. 11.811in.) stage is ideal for: Manufacturing and assembly, positioning of lab equipment, testing, inspection, sampling, and laser drilling and machining in a broad range of industrial, medical, semiconductor, and research applications.
The height of AT20-30 Motorized Vertical Lift Stage at lowered position is just 269 mm (10.591 in.) high. Constructed with black-anodized aluminum alloy and steel shafting, it weighs only 35 kg (77.2. lbs). The centrally mounted precision ground lead screw and six vertical slide rails raise and lower the stage without concern for cantilevered effects and loss of parallelism. Additionally, the stage has access from all four sides. Limit switches prevent over travel, and the large base plate has easy access to mounting holes.
The AT20-30 Vertical Lift Stage options include: Stepper motor, stepper motor with optical encoder for position verification, DC servo motor, or three-phase brushless servo motor for closed loop operation.
The Stages can be ordered as complete plug-and-play motion control systems.
About OES – Optimal Engineering Systems, Inc. (OES) is a manufacturer of motion control products including: Stepper motor controllers and drivers, solenoid electronics, and positioning stages and slides. Applications include: Animation, automated assembly systems, automation, CNC machines, flight simulation, inspection systems, linear and rotary stages, machine tools, medical devices, motion control camera boom systems, optical comparators, CMMs, pan-tilt gimbals, PCB assembly & inspection, pick-and-place, positioning stages, robotics, scanners, security cameras, telescope drive mechanisms, time-lapse photography and winders
Some of the industries OES serves are: Aerospace, Astronomy, Chemical, Communications, Educational Institutes, University, Colleges, Government Agencies, National Labs, Manufacturing, Medical, Metrology, Military, Motion Control, Museum, News Agencies, Semiconductor and Test Equipment. Optimal Engineering Systems, Inc's. competitive advantage is its state-of-the-art in-house manufacturing facility in North America enabling OES to supply clients with custom designed orders or high volume just-in-time deliveries globally.
For additional information contact our sales team at Optimal Engineering Systems, Inc. (OES), 6901 Woodley Ave, Van Nuys, CA 91406; Tel 888-777-1826, +1 818-222-9200, E-Mail sales@oesincorp.com or visit the website at http://www.oesincorp.com
Send Inquiries to:
Optimal Engineering Systems, Inc 
6901 Woodly Ave.
Van Nuys, CA 91406
888-777-1826 or +1 818-222-9200
Related