New Vector Quad Linear Guide Continuously Applies Lubrication to the Track
Press Release Summary: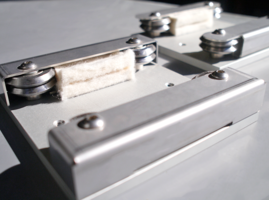 The Vector Quad Linear Guide is now offered with lubricator and roller cover option. The lubricator applied between rollers and track improves life and reduces maintenance. The cover plates are made of 14 gauge, 303 stainless steel and are resistant to corrosion. The lubricator and cover plates can be installed easily onto standard carriages. The linear guide is suitable for use in hard to maintain locations.
---
Original Press Release:
Modern Linear Has Added to the Capabilities of the Vector Quad Linear Guide by Introducing the Lubricator and Roller Cover Option
Modern Linear has added to the capabilities of the Vector Quad Linear Guide by introducing the Lubricator and Roller Cover option. Oil saturated felt deposits lubrication between the rollers and track, extending life and reducing maintenance. 2 versions allow for access to adjustable bushings or cover rollers for protection. This is ideal for hard to maintain locations.
Everyone agrees lubrication is good. A lubricated part versus a non-lubricated part is going to have a longer service life, period. Modern Linear Lubricators can be added to existing Vector Quad Linear Guides to continuously apply lubrication to the track. That means a quieter, smoother, more dependable machine for you.
Our simplified design requires no custom parts or hardware. Cover plates and lubricators install easily onto our standard carriages. The Cover Plate is made of 14 gauge, 303 stainless steel, not only making it strong but corrosion resistant as well.
Currently we are offering this upgrade for our size 3 Vector Quad Carriages only. However, we will be expanding that range to not only include all sizes of Vector Quad, but also our DT Linear Guide and Vector Trio range of products as well. This is to ensure that the widest range of applications and machines can benefit from this technology.
Modern Linear Inc.
(415)-457-1078
Related