New VB20 VoiceBud Hearing Aid Features Dual-Microphone NoiseBlocker Technology
Press Release Summary: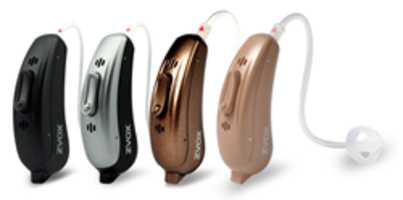 Offered with Behind the Ear design with user-changeable sound tubes and ear domes in different sizes
Amplifies sounds from 200 Hz to 5.7 kHz frequency range and features anti-feedback system
Detects loud noises and turn downs the volume automatically to prevent too-loud sounds from reaching ears
---
Original Press Release:
ZVOX Disrupts Again… Introduces the World's First Under-$300 Dual-Microphone Hearing Aid with Smartphone App Control.
More than 27 million Americans Suffer from Hearing Loss. ZVOX's FDA-registered VB20 Hearing Aid Delivers the Performance and Features many People Need
SWAMPSCOTT, MA (PRWEB) APRIL 08, 2019 - ZVOX, the audio manufacturer known for its ground-breaking innovations in soundbar and soundbase® home theater systems, is giving millions of Americans a new and affordable way to address an issue that affects overall health and well-being – hearing loss. ZVOX's VoiceBud VB20 is the world's first hearing aid with dual-microphone and smartphone app for under $300. Designed especially for people who have trouble understanding voices in some circumstances, the VB20 features a combination of advanced technologies that currently cannot be found in hearing aids at that price point. The VB20 is available at an MSRP of just $299.99 each.
ZVOX VB20: Modern Hearing Technology and Affordable Prices Finally Meet.
Hearing loss is a major and often untreated health issue for millions of Americans. Studies have shown hearing impairment negatively impacts those who experience it, leading to problems in their social life, sex life, work relations, familial relations, mental health, and overall self-worth (National Council on the Aging). While a number of affordable hearing devices have been introduced in the last few months – the ZVOX VoiceBud VB20 is something different.
Although priced like single-microphone hearing devices without wireless app control, the VB20 is FDA registered, and offers an impressive array of features normally found in higher-priced devices. 
Dual-Microphone NoiseBlocker technology is designed for crowded rooms and restaurants – to help the listener hear the people she or he is talking to, and reduce the volume of other people in the room. A dual-microphone system feeds sounds into a sophisticated digital processor that can be programmed to reduce sounds coming from behind the listener.
The VoiceBud app control is available for use on iOS or Android phones and tablets. It allows the user to wirelessly control volume and listening mode (four choices – normal, noisy room, automobile, outdoors). The app also lets the user fine-tune the sound through equalization (bass and treble controls) and to check battery status.
Wide Audio Frequency Range: Like other advanced hearing devices, the VB20 has very wide audio frequency range, amplifying sounds from 200 Hz to 5.7 kHz – resulting in smooth, natural sound.
Minimized Squealing: A sophisticated anti-feedback system helps minimize "squealing."
Ambient Noise Control: A multi-layer noise reduction system is designed to automatically detect sounds from air conditioners, fans and car engines – and minimize those sounds.
Loud noise control. The VB20 can quickly detect loud noises and automatically "turn down the volume" to prevent too-loud sounds from reaching the user's ears.
Comfort Features: The VB20 uses a BTE (Behind the Ear) design and is supplied with user-changeable sound tubes (4) and ear domes (12) in three different sizes. And each VB20 comes with a tool that allows the user to clean and maintain tubes and domes.
Batteries included: The VB20 is packed with a supply of six 312-sized zinc-air batteries that last 3-4 days each.
U.S Made Components: The electronics components, microphones and transducer in the VB20 are all made in the United States by two of the leading companies in hearing technology.
In addition to the performance features above, the VB20 hearing aid is housed in a tiny (just about one inch long), sleek designer housing available in beige, champagne gold, silver/gray and gray. They are so small that most people won't notice when someone is wearing them. VoiceBuds are very comfortable for all-day use – or can be stored in a slim pouch for use when needed.
ZVOX Disrupts. Again.
"For over 15 years, people looking for a solution to common hearing difficulties have had basically just two choices," says ZVOX CEO Tom Hannaher. "They could buy a low-priced hearing amplifier or spend a lot of money on a sophisticated hearing aid. The VoiceBud VB20 hearing aid offers advanced hearing technology at a reasonable price. Millions of people with mild to moderate hearing loss now have a new option that could really improve their lives."
Features & Specifications: 
Wide frequency range for natural sound.
Digital equalization boosts voice frequencies while minimizing other sounds.
Multi-layer noise reduction to minimize sounds from air conditioners, traffic, etc.
Maximum Potential Output limiting (prevents very loud sounds from being amplified)
Frequency response: 200 Hz – 5.7 kHz
Distortion: Less than 0.5%
Maximum Output: OSPL90 (dB) 112-117
Average Output: HFA-OSPL90 (dB) 102-107
Maximum Gain: FOG50 (dB): 25-34 dB (depending on mode)
Equivalent Input Noise (dB): <20
Battery size: 312 (standard hearing aid size)
Battery current (mA): 2.5
WDRC (Wide Dynamic Range Control): 4 channels, 12 bands
Size (without sound tubes and ear domes): 1" x 0.3"
About ZVOX. 
ZVOX, a pioneer of simple home theater solutions is recognized for introducing the first commercially successful sound bar in 2004, the first soundbase TV audio system in 2008, and the first speaker dedicated to dialogue clarity in 2016. The company has been committed to enhanced hearing solutions for over 15 years.
ZVOX Audio, 17 Columbia St., Swampscott, MA 01907 
Press contact: Sara Trujillo, sara@trujillopr.com 
http://www.zvoxaudio.com info@zvoxaudio.com
Contact Information
Sara Trujillo
Trujillo Public Relations
+1 917.295.5491
More from Fluid & Gas Flow Equipment