New VARODRY Vacuum Pump is Ideal for Rough Coating, Drying and Regeneration Applications
Press Release Summary: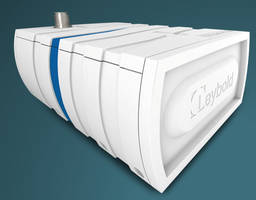 Features predestine VD HD/O2 versions and is available in pumping speed sizes 65, 100, 160 and 200 m3/h
Equipped with a stainless steel exhaust and a built-in purge module
Offers oil-free operation and can tolerate 100 percent oxygen
---
Original Press Release:
The New VARODRY HD/O2 Version from Leybold – for Heavy Duty or O2 Industrial Vacuum Processes
Cologne, November 2020 – In 2018, vacuum specialist Leybold designed the 100 % dry screw pump VARODRY for demanding industrial applications. This compact all-rounder is easy to install and, thanks to its compact design, easy to integrate into systems. Now Leybold has extended its VARODRY platform by the robust "Heavy Duty" and Oxygen VD HD/O2 version.
A stainless steel exhaust and integrated purge module
These features predestine the VD HD/O2 versions particularly well for rough coating, drying and regeneration applications. In these areas, where extra robustness is required and the exhaust gases are usually discharged via piping. The VD HD/O2, which is available in pumping speed sizes 65, 100, 160 and 200 m3/h has been specially equipped with a stainless steel exhaust and a built-in purge module.
VARODRY is completely oil-free
In comparison to competitive screw vacuum pumps, VARODRY is completely oil-free, which is a special feature. In a VARODRY, there is no oil migration feasible from the gear chamber into the vacuum chamber or into products or processes. This prevents potential reactions of the lubricant with process media as well as back diffusion towards the process chamber.
VARODRY HD/O2 tolerates 100 percent oxygen
Based on this completely oil-free operation and the additional precautions taken to ensure hydrocarbon-free surfaces, the HD/O2 version can tolerate 100 percent oxygen. This suitability has also been proven by intensive and sustained testing by a notified body.
Reliable, affordable, uncomplicated for O2 or other Heavy Duty applications
The bottom line is that the VARODRY from Leybold scores with reliable performance and low operating costs over the entire service life. Last but not least also the renouncement of complex (PFPE) oil changes makes the new VARODRY HD/O2 version the ideal pump for industrial vacuum processes – even when using 100 percent oxygen or other demanding applications. The bottom line is that handling this vacuum pump is uncomplicated for its users and offers many advantages.
About Leybold
Leybold is a part of the Atlas Copco's Vacuum Technique business area and offers a broad range of advanced vacuum solutions for use in manufacturing and analytical processes, as well as for research purposes. The core capabilities centre on the development of application- and customer-specific systems for the creation of vacuums and extraction of processing gases. Fields of application are secondary metallurgy, heat treatment, automotive industry, coating technologies, solar and thin films such as displays, research & development, analytical instruments, food & packaging, as well as a multitude of other classic industrial processes.
About Atlas Copco
Great ideas accelerate innovation. At Atlas Copco, we have been turning industrial ideas into businesscritical benefits since 1873. By listening to our customers and knowing their needs, we deliver value and innovate with the future in mind. Atlas Copco is based in Stockholm, Sweden with customers in more than 180 countries and about 37 000 employees. Revenues of BSEK 95/ 9 BEUR in 2018.
For more information: www.atlascopcogroup.com
For further information, please contact:
Christoph Angenendt
Communications Manager Industrial Vacuum Division
T: +49 (0)172 29 650 75
Christoph.Angenendt@vt.atlascopco.com
Niels Gorrebeeck
Produktmanager
Niels.Gorrebeeck@Leybold.com
More from Software