New Variable Speed PWB-320-FAN Produces 24 dBA SPL at 80 W Heat Load
Press Release Summary: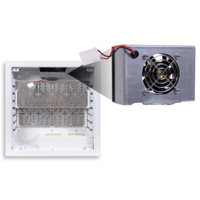 Fan is thermostat controlled and its speed keeps equipment inside at a safe temperature
Maintains an internal box temperature below 40°C with a 100-watt thermal load
Designed to run at a minimum speed up to 300 C, increasing linearly to full speed at 400 C
---
Original Press Release:
FSR's Newly Launched Fan Keeps The Gear Cool, Quiet and Safe
PWB-320/320XL Wall Box Series gets an additional level of protection with fan option
Woodland Park, NJ (February 10, 2020) - FSR, a leading manufacturer of a wide variety of products for the Pro AV and Information and Communications Technologies (ICT) markets, has announced the launch of its PWB-320-FAN, a variable speed, temperature-controlled fan option for the Company's popular PWB-320 and PWB-320XL wall box series. The option adds a supplemental level of protection for the expensive gear installed in the versatile wall boxes by keeping it cool while in the wall. In addition to connectivity wall, floor, table and ceiling boxes, FSR manufactures a full line of audio and video switchers, control products, and collaboration systems from its headquarters in Woodland Park, NJ.
"Our popular PWB Wall Boxes are holding more and more equipment," explained Jan Sandri, FSR president. "Everything from digital matrix pieces, extenders and much more is going into these boxes, and it all needs heat protection. The PWB-320-FAN provides just that along with the peace of mind that the equipment will be safe and perform flawlessly."
The variable speed PWB-320-FAN is thermostat controlled. As the heat inside the wall box rises, so will the speed of the fan, keeping equipment inside at a safe temperature. It's designed to run at a minimum speed up to 300 C, increasing linearly to full speed at 400 C, maintaining an internal box temperature below 40°C with a 100-watt thermal load and thermal transport of 340 BTU/Hr with a 100 C temperature rise. Whisper quiet, the fan produces a 24dBA SPL at an 80-watt heat load.
The PWB-320 and PWB-320XL, units in FSR's highly successful Project Wall Box family, are priced to ease the installer's bottom line. These economical large open wall boxes are designed to fit 16" on center stud bays and simplifying audiovisual and IT installations by providing space for routing cables, AC connections, and digital media products mounted in 3"- 4" thick walls. The boxes are available in sizes to fit typical wall designs and can be used with or without the decorative trim ring and cover options.
About FSR
FSR, established in 1981, manufactures a wide variety of signal management and infrastructure solutions for the AV/IT, Information and Communication Technologies (ICT), corporate, education, hospitality, government, and religious markets, including floor, wall, table, and ceiling connectivity boxes and wireways, as well as a full line of interfaces, distribution amplifiers, matrix switchers, seamless scaling switchers and HDBaseT signal delivery solutions. FSR offers live 24/7 technical and sales support throughout the country from expertly trained technicians and sales representatives. The Company is also an HDBaseT Alliance Adopter Member.  For more information: www.fsrinc.com.
FSR Contact:
Jan Sandri
973-998-2300
[email protected]
Press Contact:
Desert Moon Communications
Harriet Diener  
845-512-8283
[email protected]