New Variable-drive MarSurf VD Series Feature Arge Mounting Plate with 50mm Bore Pattern
Press Release Summary: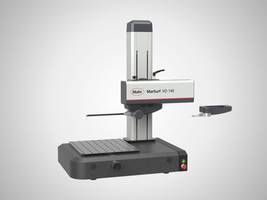 Drive units move probe with positioning speeds of up to 200 mm/s
Equipped with intelligent MarWin roughness and contour software to provide the ease of use
Available in drive unit sizes of 140mm and an industry-first 280mm to allow for the measurement of applications
---
Original Press Release:
New MarSurf Variable Drive Series Offers Users The Ability to Easily and Quickly Perform Roughness and Contour Measurements on the Same Machine
Available in 140mm and Industry-first 280mm Sizes to Enable Measurement Options that were Previously Impossible, Including Larger Parts
Providence, RI – June 25, 2019 – Mahr Inc., a leading provider of dimensional metrology solutions, today announced the addition of the variable-drive MarSurf VD series, which enables roughness and contour measurements to be performed on the same machine. The operator can easily and quickly change between a high-precision roughness probe system or a highly dynamic contour probe system, depending on the measuring task.
Along with other recent introductions to Mahr's new family of surface finish measurement tools, the MarSurf VD series was developed from the ground up with the leading technology, quality and innovation that Mahr is known for. It provides unprecedented levels of speed, flexibility and intelligent ease of use, allowing users to improve the manufacturing quality of workpieces with faster throughput and higher accuracy for a wide variety of applications.
In terms of flexibility, the new variable drive MarSurf VD series combines the best of both the contour measuring MarSurf CD series and the surface finish measuring MarSurf GD into a single unit capable of doing both tasks. It is available in drive unit sizes of 140mm and an industry-first 280mm to allow for the measurement of applications that were previously impossible, including larger parts or a series of smaller parts staged together—all on the same machine. The MarSurf VD series also significantly increases the speed of all moving axes to reduce the cycle time of the measurement process, allowing more throughputwhich is particularly valuable when used directly in the production environment.
The drive units of the MarSurf VD series move the probe with positioning speeds of up to 200 mm/s, making surface measurements up to 40 times faster than predecessors. All Z-axis columns on the MarSurf VD series are fully CNC-capable with fast positioning speeds of 50 mm/s, which is up to five times faster than standard Z-axes on the market today.
Furthermore, MarSurf VD series products are equipped with intelligent MarWin Easy Roughness and Easy Contour software to provide the ultimate ease of use. Many operations can be performed right out of the box, such as creating instructional UIs to guide a user through all the steps of a specific measurement.
"The new MarSurf VD series combines the best characteristics of contour and roughness measurement systems into one to provide substantial cost and space savings," said Pat Nugent, Vice President of Product Management at Mahr. "It is ideal for use anywhere the maximum in flexibility is required. This might be a smaller shop or a lab environment where a machine is not dedicated to a single measurement task but rather needs to be quickly reconfigurable to solve a multitude of requirements."
The VD Series features a large mounting plate with 50 mm bore pattern, 60 mm Y adjustment, and Z-axis of 350 mm or 600 mm. All probe arms feature a quick-change magnetic mount to ensure the fastest changeover time, as well as extra security allowing the probe to "break away" in the event of an accidental collision—protecting both the probe and the system.
About Mahr Inc.
When customers are faced with a metrology need, they turn to Mahr Inc., for unmatched industry expertise. Mahr Inc.'s knowledgeable, experienced team has made the company a leader in precision measurement for more than a century.
Mahr Inc., a member of the Mahr Group, has been providing dimensional measurement solutions to fit customer application needs for more than 150 years. The company manufactures and markets a wide variety of dimensional metrology equipment, from simple and easy-to-use handheld gages to technically advanced measurement systems for form, contour, surface finish and length. Mahr Inc. is also well known as a producer of custom-designed gages and a provider of calibration and contract measurement services. Mahr Inc.'s calibration laboratories are accredited to ISO/IEC 17025:2005 NVLAP Lab Code 200605-0 (see our Scope of Accreditation for accredited calibration processes). For more information, visit www.mahr.com
Contact:
Mahr Inc.
Laurie DesRoches
1144 Eddy Street
Providence, RI 02905 USA
401-784-3392
Media Contact:
SVM
Jill Colna
2 Charles St.
Providence, RI 02904 USA
401-490-9700