New V Series Feeder/Airlock is Offered in 2-bar Operational Design
Press Release Summary: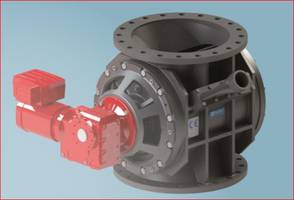 The V Series Feeder/Airlock from FLSmidth is available with 1 to 3 HP motor and handles large particles such as pellets or hydrated lime. The airlock is offered in ductile iron body / AR rotor, ceramic lined body / tungsten carbide rotor and stainless steel body and rotor constructions. The product comes with shrouded design, standard variable-speed drive and NFPA and ATEX certifications. The V series airlock is capable for conveying dense-phase materials.
---
Original Press Release:
Introducing the FLSmidth V Series Airlock & Feeder
FLSmidth Pneumatic Transport (PT) has developed the V-Series Feeder / Airlock to supply all global markets that PT serves in one unified standard fashion. The V-Series Feeder will replace the present TE and Metric feeders with an exceptional new product to enhance overall performance - volumetric efficiency, design simplicity, reliability and durability.
Features and user benefits include:
"V" Airlock Feature                                                                                               User Benefit
2-bar (30 PSIG) Operational Design                                                      Smaller Convey Lines and less Convey Air
Large Diameter Flow Channel                                                                Allows efficient linear operation up to 30 RPM
Improved Inlet/outlet geometry                                                               Conveys larger particles – dust to 25 mm or more
10-Blade Rotor                                                                                        Provides improved sealing / minimizes leakage
Ribbed, Shrouded Design                                                                       Minimized air movement past end of Rotor
Abrasion Resistant Rotor Construction                                                   Handled semi-abrasive materials without wear
Narrow Body Vent                                                                                   Minimizes the need for a Two-Feeder Stackup
Direct-coupled Drive                                                                               Eliminates sprocket and chain maintenance
Standard Variable-speed Drive                                                               Easily change capacity and allow material changes
Replaces outdated Screw Pumps                                                           Reduced Power by 95% or more on pump motor
Certified to NFPA and ATEX standards                                                  Conveys pulverized fuels and explosive dusts
Serialized Design                                                                                    Allows factory rebuilding to save replacement cost
Consider the "V" Airlock for convenient replacement of older or obsolete screw pumps. With a motor of 1 HP to 3 HP, it can replace these older inefficient machines with a modern conveying device that will reduce motor power by 95% or more.
Unlike a screw pump, the "V" Airlock / Feeder can handle large particles, such as pellets or hydrated lime. Check with the experts at FLSmidth to find out if the "V" is suitable for your application.
The "V" Airlock is available in different levels of construction for mildly abrasive, highly abrasive and corrosive feeding and conveying applications:
Ductile Iron Body / AR Rotor – for mildly abrasive materials such as hydrated lime, cement, pulverized coal, plastic resins, fertilizer products and dry chemicals;
Ceramic Lined Body / Tungsten Carbide Rotor – for moderate to highly abrasive materials such as limestone, flyash, raw meal, roofing granules and foundry sand;
Stainless Steel Body & Rotor – for handling corrosive materials or for applications where avoidance of ferrous contamination is required.
The first V-500 Airlock was installed at a cement terminal in Nashville, Tennessee and began operation in March 2018. The customer is very pleased with the operation, in fact, so much that they immediately ordered a second V-500. The second "V" Airlock is now operating successfully at a location near Jackson, Mississippi.
We are very excited to introduce this new product and can only imagine all of the new pneumatic conveying applications where it will lead us. Due to the higher-pressure rating of the "V" Series, it can be used in many systems where a traditional pressure tank system was once the only choice. The "V" Series is capable of dense-phase conveying of suitable materials. With its high volumetric efficiency and resulting high RPM rating a "V" Airlock costs much less than a typical pressure tank system. It requires much less headroom, operates continuously and there is no need for numerous cycling valves and a complex control system.
To learn more about the V-Series Rotary Feeder/Airlocks please visit:
http://catalog.conveyorspneumatic.com/viewitems/feeders-airlocks-rotary-valves/v-series-rotary-feeder-airlocks
The "V" Series should be your first choice for most common pneumatic conveying applications.
More from HVAC