New UWB Real-time Location System for Cargo Management and Workforce Monitoring
Press Release Summary: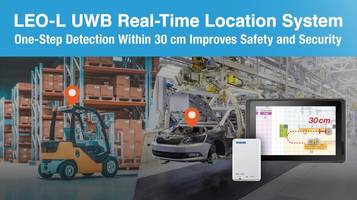 LEO-L04 enables high-precision and real-time tracking for up to 1,000 LEO-04 tags via a USM-L42 receiver
Transmits 3 ~ 6 GHz center frequency impulse signals within a 75 m range
USM-L42-000 tag receiver supports up to 1,000 LEO-L04 tags
---
Original Press Release:
Advantech's LEO-L UWB Real-time Location System Enables High-precision Tracking of Vehicles, Personnel and Assets
Taipei, Taiwan, May 5, 2020 – Advantech, a leading provider of industrial computing platforms, is pleased to announce the LEO-L04 ultra-wideband (UWB) real-time location system aimed at personnel and asset tracking for industrial applications. Accurate within 30 cm, LEO-L04 enables high-precision, real-time tracking for up to 1,000 LEO-04 tags via a USM-L42 receiver. Designed for cargo management and workforce monitoring, a LEO-L04 tag transmits 3 ~ 6 GHz center frequency impulse signals within a 75 m range. Featuring a low-power sleep mode battery design, this system maintains one full year of tag operation to accommodate long-term location management. LEO-L04 UWB is an excellent choice for industrial warehouse, factory, and human resource applications that require precise frequently-updated location monitoring.
One-Step Detection Within 30 cm Improves Safety and Security
LEO-L04 tags feature highly precise location tracking, facilitating detection within 30 cm. Data on vehicle, asset, and personnel movement is collected utilizing trajectory tracking and enabling real-time management. Through precise tracking, LEO-L04 increases workplace safety and security by allowing personnel and assets to be monitored within a defined environment. Advantech's solution can help minimize public health risks by recording personnel movement and contact via a web server.
1,000 UWB Tags Per Server Enable Big Data Collection
Advantech's tracking system accommodates 1,000 tags within a maximum range of 75 m. The combination of accurate location tracking and long-range utilization enables users to easily gather big data for business insights. Likewise, UWB tags are a low-power technology with a fast radio frequency (RF) of 3 ~ 6 GHz received by USM-L04. UWB tags and receivers function in a broad temperature range (-20 ~ 55 °C/-4 ~ 131 °F), making them suitable for diverse industrial environments and applications.
Key Feature
LEO-L04-000 UWB Tags
IP54-rated protective enclosure
Up to 1 year battery life in Sleep mode with a 1/sec data transmission rate
Up to 1 month battery life in Movement mode with a 300/ms data transmission rate
USM-L42-000 Tag Receiver
Supports up to 1,000 LEO-L04 tags
POE power supply
IP65-rated protective enclosure
TCP/IP, UDP network communication
Advantech's LEO-L04 UWB real-time location system will be available for order at 29th May. For more information about this or other Advantech products, contact your local sales support team or visit our website at www.advantech.com.
About Advantech
Founded in 1983, Advantech is a leading provider of trusted, innovative products, services, and solutions. Advantech offers comprehensive system integration, hardware, software, customer-centric design services, embedded systems, automation products, and global logistics support. We cooperate with partners to provide complete solutions for diverse applications across various industries. Our mission is to enable an intelligent planet with automation and embedded computing products and solutions that facilitate smarter working and living. With Advantech products, the number of potential applications and innovations is unlimited. (Corporate website: www.advantech.com)
Primary Media Contact:
Advantech Corporation
Eva.Wang
Tel: +886-2-2792-7818 ext. 9045
Eva.Wang@advantech.com.tw
Secondary Media Contact:
Advantech Corporation
Grace.Chiang
Tel: +886-2-2792-7818 ext. 9628
Grace.Chiang@advantech.com.tw
Contact This Company Download Spec Sheet
More from Computer Hardware & Peripherals