New Utah Rail Manufacturing Site Rolls on Penetron Technology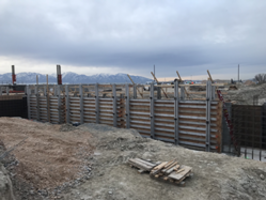 East Setauket, N.Y. (PRWeb) December 10, 2019 -- The grand opening of Stadler Rail's new US headquarters and manufacturing facility in Salt Lake City, Utah, in September 2019 marked a further milestone in the Swiss company's rapid expansion in the US market. PENETRON ADMIX was used to waterproof the foundation elements of the sprawling site.
Founded in 1942 by Ernst Stadler in Zurich, Switzerland, as an engineering office, the company first converted trams and small rolling stock to battery operation before moving up to the manufacture of battery- and diesel-powered locomotives three years later. In 1989, Peter Spuhler took over the company, which had 18 employees at the time. By focusing on regional and suburban market segments with complete vehicle concepts based on rail modules tailored to specific needs, the company continues to grow rapidly. Today, Stadler Rail has over 10,500 employees and maintains a global manufacturing and service network in dozens of countries around the world.
Rapid Growth Thanks to Product Flexibility
"Stadler has been building all kinds of trains – high-speed trains, regional trains and trams – for over 75 years," adds Christopher Chen, Director of The Penetron Group. "The opening of the company's newest train manufacturing facility in Salt Lake City, Utah, underlines their incredible growth and ability to develop modular and tailor-made rolling stock very quickly."
The 230,000 square-feet (21,000 m2), $50 million facility is less than two miles from the Salt Lake City International Airport. Situated on a 62-acre site, the facility comprises multiple halls (each about 45,000 square feet/4,100 m2) and was completed in about 18 months by the Wadsworth Construction Company.
Making Concrete Resistant to Deterioration
The concrete used for the facility's raft slab, or frost-protected shallow foundation, was supplied by American Eagle, the project's ready-mix supplier. Treated with PENETRON ADMIX to protect against the groundwater levels at the site, the concrete is now resistant to concrete deterioration caused by chemical attack, freeze-thaw cycles and corrosion, while withstanding hydrostatic pressure at the site.
"Added to concrete during batching and unaffected by climatic conditions, PENETRON ADMIX can significantly increase concrete durability and service life," explains Christopher Chen. "Once the admixture is mixed in, it becomes an integral part of the concrete matrix. Thanks to the non-soluble crystalline formation throughout the pores and capillary tracts, the concrete now has the ability to self-heal and seal any micro-cracks, pores and capillaries that may occur in the future."
The Penetron Group is a leading manufacturer of specialty construction products for concrete waterproofing, concrete repairs and floor preparation systems. The Group operates through a global network, offering support to the design and construction community through its regional offices, representatives and distribution channels.
For more information on Penetron waterproofing solutions, please visit penetron.com or Facebook.com/ThePenetronGroup, email CRDept@penetron.com or Contact the Corporate Relations Department at 631-941-9700.
Contact Information:
Corporate Relations
The Penetron Group
http://www.penetron.com
631-941-9700
More from Electronic Components & Devices