New UPT-2 Nanoparticle Research System Provides Magnetic Field Strength
Press Release Summary: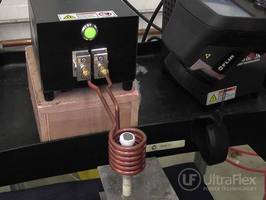 Includes infrared camera which is used to monitor temperature
Takes about 90 seconds to reach the target temperature at power output of 1.59 kW and frequency of 217 kHz
Ideal for magnetic hyperthermia and other applications
---
Original Press Release:
UltraFlex Successfully Using Induction Heating for Nanoparticle Research
Jan 6th, 2020] The efficiency of using induction heating for nanoparticle research related to magnetic hyperthermia has recently been demonstrated by UltraFlex Power Technologies. The company - a manufacturer of advanced induction heating solutions - has successfully heated a sample glass vial with solution and magnetic nanoparticles to 140°F (60°C), while carefully measuring and controlling the temperature reached.
The heating process was accomplished using a custom, UltraFlex-designed and manufactured induction heating coil, to optimize the magnetic field strength during this heating.
UltraFlex UPT-2 nanoparticle research system from the UltraFlex N-series had been used in this test scenario. Ultraflex Nanoparticle Research Systems are ideal for magnetic hyperthermia and other applications. Thanks to the variety of power and frequency levels available, these systems will provide the magnetic field strength needed for your application.
The heating process started by first lightly shaking the vial with solution and nanoparticles and then positioning it in the center of the coil, followed by turning on the heating. An infrared camera was used to monitor temperature.
At power output of 1.59 kW and frequency of 217 kHz, it took about 90 seconds to reach the target temperature. At 90 seconds the vial was removed from the coil, and temperature confirmed to be over 60°C.
Thanks to the precise control of time and temperature, UltraFlex induction heaters proved successful for yet another nanoparticle research application. In addition, due to the rapid heat cycles with power on demand, this induction heating process was also energy- and cost-efficient.
Find out more at: https://ultraflexpower.com/
Contact Us At:
+1.631.467.6814
uptnews@ultraflexpower.com
About UltraFlex Power Technologies:
UltraFlex Power Technologies (ultraflexpower.com) offers the most advanced and innovative digitally controlled induction heaters in the industry. Its compact modular and flexible systems are suitable for a wide variety of induction heating, casting and melting applications.
Related