New Uniflow Extrusion Die Offers Improved Performance in Monolayer and Multilayer Production
Press Release Summary: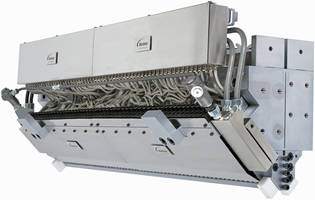 Nordson's Uniflow™ Extrusion Die is suitable for cast film applications and is offered under EDI® brand. The product is used in high-speed production of thermally stable resins with few rate changes. Uniflow's elongated teardrop manifold cross-section offers uniform layers in coextrusion.
---
Original Press Release:
Cost-Peformance Options Expand for EDI® Cast Film Dies
Nordson Now Offers Cast Film Producers the Proven Uniflow™ Extrusion Die as an Alternative to Top-of-the-Line Dies like the Widely Used Contour® Die
CHIPPEWA FALLS, WI, U.S.A., May 16, 2018: Nordson Corporation has adapted an extrusion die technology that has been in global use for 15 years and now offers it under the new name Uniflow™ as an alternative for cast film applications that do not call for the unique capabilities of the widely used EDI® Contour® die.
The Contour die is the most technologically advanced cast film die on the market, with a distinctive "sculpted" shape that is the key to enhanced product quality, raw material conservation, and maximum uptime, noted Scott Smith, business unit director for polymer dies.
The Uniflow die, now available under the well-known EDI® brand, was first developed by the Belgian firm Verbruggen, which Nordson acquired in 2011. "While the Uniflow die represents a lower-cost alternative to the Contour die, it provides real advantages in important application areas," said Mr. Smith. "It is a versatile die whose effectiveness has been proven in both monolayer and multilayer production."
With the addition of the Uniflow die, along with recent innovations in gauge profiling and feedblock adjustment, Nordson's portfolio of technologies for cast film is now so diverse that processors can select a package of EDI die system components that exactly meets their performance requirements.
The cast film die alternatives now offered by Nordson include:
● Contour® die. The special configuration of this die offsets the differences in die body deflection across the width of the die; an elongated teardrop, diminishing volume manifold cross-section improves layer uniformity in coextrusion; and a non-linear interface between the preland and manifold greatly reduces or eliminates "M" or "W" flow patterns. Compared with standard cast film dies, the Contour die reduces gauge variation across the width of the die, resulting in a substantial improvement in transverse product uniformity. In addition, it reduces the time to achieve on-spec product and to purge between product runs. And it avoids gels and degradation. Nordson recommends the Contour die for applications where thermally sensitive materials (such as barrier resins) are used or where there are frequent rate changes.
The versatility of the Contour die in comparison with a standard die is apparent in reduced start-up time to sellable product (10 to 15 minutes, versus 30 to 60 for the standard die); shorter product changeover (10 to 15 minutes versus 90 or more); and shorter purge time (20 to 25 minutes versus 40 or more).
● Uniflow™ die. This die provides an affordable option for high-speed production of thermally stable resins with very few rate changes, such as for stretch film. Its versatile flow channel accommodates a broader range of resins and processing parameters. It has an elongated teardrop manifold cross-section that promotes uniform layers in coextrusion. The outstanding mechanical stability of the Uniflow die reduces the changeover time between product runs.
● Multi-Manifold Dies. As an alternative to use of coextrusion feedblocks with single-cavity dies, Nordson also offers multi-manifold dies designed to accommodate materials with dissimilar viscosities and partial coverage requirements. These dies are capable of generating skin layers with less than 10% of the thickness of the total structure and producing coextrusion structures with temperature differentials up to 50 °F (28 °C). Recently Nordson built a nine-manifold die-the first of its kind. Nordson has built more multi-manifold dies than any other manufacturer.
All of these dies are available as part of a total system, including Autoflex™ automatic gauge profiling systems, Ultraflow™ coextrusion feedblocks, dual-chamber vacuum boxes, and UltraSplit™ online die separation devices. Nordson has recently introduced next-generation technologies for these system components. In Autoflex VI-RE gauge profile control system, the stroke of the lip adjusting system has been increased by 43% without adding to response time, enabling it to correct a wider range of process variations, often without need for manual intervention. The new Ultraflow V-T feedblock makes it possible to fine-tune individual layers as well as accommodate changes in layer ratio, and to adjust the tuning system without removing the feedblock from the production line.
Nordson Corporation engineers, manufactures and markets differentiated products and systems used for the precision dispensing of adhesives, coatings, sealants, biomaterials, polymers, plastics and other materials, fluid management, test and inspection, UV curing and plasma surface treatment, all supported by application expertise and direct global sales and service. Nordson serves a wide variety of consumer non-durable, durable and technology end markets including packaging, nonwovens, electronics, medical, appliances, energy, transportation, construction, and general product assembly and finishing. Founded in 1954 and headquartered in Westlake, Ohio, the company has operations and support offices in more than 30 countries. Visit Nordson on the web at http://www.nordson.com, @Nordson_Corp, or www.facebook.com/nordson.
Nordson Polymer Processing Systems provides customers with engineered components to melt, homogenize, filter, meter, and give shape to plastic and fluid coating materials. Nordson Corporation leverages the collective plastics industry experience from a series of strategic acquisitions to offer a uniquely broad portfolio of industry-leading technologies. Nordson delivers a full range of precision melt stream products — from screws and barrels for extrusion and injection molding — to filtration systems, pumps, and valves — to the extrusion dies and pelletizing systems to meet the constantly evolving needs of the polymer industry.
Nordson Corporation provides customers with local technical sales, service and remanufacturing capabilities through sales organizations and regional manufacturing facilities in over 30 countries. To learn more visit us at http://www.nordsonpolymerprocessing.com  or www.facebook.com/NordsonPPS.
Robert J. Martino
Martino Communications Inc.
Tel: 1-203-321-0787
Email: bob@martinocommunications.com
More from Packaging Products & Equipment