New Under-Seat Subwoofer is Available 4 in. Tall and 14 in. Long Dimensions
Press Release Summary: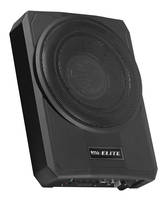 Features 1000 watt maximum and built-in amplifier
Offers high- and low-level inputs and remote bass knob
Provides 50-150Hz variable low pass filter and 0 to +12dB variable bass boost
---
Original Press Release:
BOSS Audio Systems Introduces New 10" Amplified Under-Seat Subwoofer Enclosure to Elite Lineup
The Subwoofer Features 1000 Watt Maximum and a Built-In Amplifier
OXNARD, Calif., March 18, 2021 – BOSS Audio Systems, a leader and innovator in 12 Volt aftermarket audio and video products, is proud to announce the launch of a new 10" Amplified Under-Seat Subwoofer Enclosure, SLIM10.
The SLIM10 delivers incredible bass output in a slim form factor that fits in the smallest locations. Coming in at under 4" tall and 14" long, this under-seat amplified enclosure allows users to add bass to almost any vehicle. Featuring high- and low-level inputs and a remote bass knob, the SLIM10 makes installation a breeze.
"This new addition to the MAP protected BOSS Elite line delivers the bass performance and space-saving design to fit a ton of bass into a tiny space," said Jason Hannon, National Sales Manager. "Great sound, great looks, and a great price, the SLIM10 has everything BOSS Elite is known for."
Additional features and specifications of the SLIM10 include:
Variable Low Pass Filter (50-150Hz)
Variable Bass Boost 0 to +12dB
Butyl Rubber Surround
Aluminum Cone
Subwoofer Remote Control
PWM MOSFET Power Supply
High- & Low-Level RCA Inputs & Speaker Level Inputs
Thermal, Short, & Overload Protection Circuits
Phase Control
Input Sensitivity Selector: 0.2V-6V, Phase Shift Selector Switch: 0 or 180°
13.58"Lx10.43"Wx3.15"H
LED Power Status Indicator
For more information, please visit www.bossaudio.com.
Pricing and Availability:
Priced at $129.99, the SLIM10 is available now at bossaudio.com.
About BOSS Audio Systems:
Since 1987 BOSS has produced quality audio and video products that feature the latest technology while consistently delivering a clean and powerful sound. Our in-house acoustic, design, mechanical, and electronics engineers collaborate with a vast resources of global manufacturing partners, working as a team to infuse products with state-of-the-art features that have made each listening experience more enjoyable for over 30 years.
The company offers more than 400 car, marine, and Power Sports products that are sold in 130 countries, both in storefront retailers and online. Headquartered in Oxnard, CA, with offices in Shenzhen, China, BOSS leverages robust logistical and production capabilities to create optimized audio and video experiences as well as deliver innovative products.
Related