New UltraHeat S are Compact and 2kW Induction Heating Systems
Press Release Summary: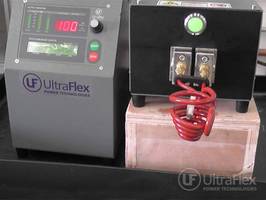 Features automatic frequency scanning
Easy tuning to a variety of loads and coils
---
Original Press Release:
Ultraflex Melting Aluminum with Levitation Using an Induction Heater
[July 29th, 2019] Melting of aluminum with no impurities imparted during the melting process has been recently demonstrated by UltraFlex Power Technologies. The company - a leading manufacturer of digitally controlled induction heaters - used levitation-based induction heating in this melting process.
In the demonstration, 2g of aluminum had to be melted for precise material research purposes. Hence, impurities had to be prevented during the melting process. Traditional melting applications impart impurities into the melted material but induction-based levitation melting provides a well-controlled high purity melt.
The levitation melting had been successfully accomplished by UltraFlex using their low-power induction heating system from the UltraHeat S series. UltraHeat S are compact, economical 2kW induction heating systems. They feature automatic frequency scanning and easy tuning to a variety of loads and coils. Output power of 1.72 kW had been applied for this demo.
The melting process had been accomplished by first placing the piece of aluminium to be melted into a test tube. With power turned on and current running through the levitation coil, the sample was allowed to flow out of the tube while the tube was passed through the coil. After the levitated aluminum melted and stabilized, the power was turned off and the sample dropped into the receptacle placed beneath.
Thanks to the induction-based levitation melting, the sample was melted while at the same time its purity was preserved. Removing the sample was quick and easy and only required power turn off, allowing it to exit at the bottom of the coil.
This melting demonstration was yet another proof of the efficiency of induction heating for materials research and testing purposes.
UltraFlex Power Technologies has developed a range of products dedicated to re-melting, QC and sample preparation for metallurgical labs in foundries, recycling, refining or material research facilities. Their casting and melting units offer easy way to prepare samples for single and routine testing which offer many advantages compared with traditional procedures of sample preparation. UltraFlex systems utilize advanced high frequency induction heating technology which has many important advantages over other conventional techniques.
Check out some photos from this test application:
Find out more at:
Contact us at:
+1.631.467.6814
About UltraFlex Power Technologies:
UltraFlex Power Technologies (ultraflexpower.com) offers the most advanced and innovative digitally controlled induction heaters in the industry. Its compact modular and flexible systems are suitable for a wide variety of induction heating, casting and melting applications.
Related