Welding Rods, Wire and Electrodes
New UltraCore Stainless Steel Flux-cored and Gas-shielded Wires for Flat and All-positional Applications
Press Release Summary: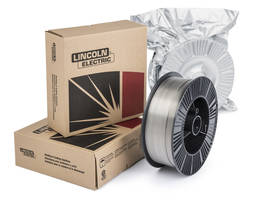 Provides polished weld bead appearance and reduces post-weld cleaning
Fast freezing slag design for out-of-position welding and smooth wire feeding
Available with wide operating range and smooth arc with minimal spatter
---
Original Press Release:
Lincoln Electric Provides New UltraCore® Stainless Flux-Cored Wires
Cleveland – Lincoln Electric® offers new UltraCore® stainless steel flux-cored, gas-shielded wires available in commonly used austenitic grades for flat and all-positional applications. The new wires are preferred by welders for the polished appearance of the weld deposits, ease of welding out-of-position and smooth wire feeding.
Sheena Suvak, senior product manager, alloys, Lincoln Electric stated, "Flux-cored wires can provide great deposition at high wire feed speeds; given the nature of welding stainless, we knew ease of use was imperative. The new UltraCore flux-cored stainless wires have a smooth arc characteristic that produces minimal spatter. Our fast freezing slag design creates an easier out-of-position welding experience."
Designed with the welder in mind, UltraCore stainless steel wires deliver improved weldability characteristics, including: 
Easier out-of-position welding
Smooth arc with minimal spatter

Polished weld bead appearance
Reduces post-weld cleaning

Wide operating range
The upgraded packaging includes the following: 
Precision layer wound

Steady spool payoff
Consistent wire feeding

Vacuum-sealed foil bag

Moisture-resistant package

New larger 33 lb spool package size

Less changeover
More arc time
Testing indicates UltraCore wires exhibit significantly greater arc stability over the length of the weld. The weld beads have less discoloration compared to the competition.
For more information visit www.lincolnelectric.com
Lincoln Electric is the world leader in the design, development and manufacture of arc welding products, robotic arc welding systems, plasma and oxy-fuel cutting equipment and has a leading global position in the brazing and soldering alloys market. Headquartered in Cleveland, Ohio, Lincoln has 60 manufacturing locations, including operations and joint ventures in 19 countries and a worldwide network of distributors and sales offices covering more than 160 countries. For more information about Lincoln Electric and its products and services, visit the Company's website at www.lincolnelectric.com. 
Media Contacts:
Janel Hlebak – jhlebak@wearefalls.com or 216.696.0229
Greg Coleman – greg_coleman@lincolnelectric.com or 216.383.2462
More from Explosives, Armaments, and Weaponry