New Ultra Miniature, High Temp, Case Isolated, Charge Mode Accelerometer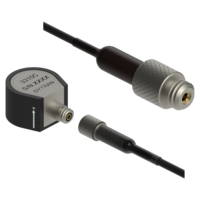 March 27, 2017 – Chatsworth, California, USA – Dytran Instruments, Inc. (www.dytran.com) a leading manufacturer of piezoelectric and DC MEMS accelerometers, force and pressure transducers and associated electronics, is pleased to announce the release of Model 3310A, our innovative ultra miniature, high temperature, isolated, charge mode accelerometer.
Model 3310C is characterized by its miniature size (.35 L X .35" Ø X .24" H) which allows it to be mounted in areas that allow only a very small footprint. The 3310C's high output, low capacitance, thermally stable single crystal material improves temperature stability, allowing for operation in high temperature (up to +500°F) environments. One unique feature of this model is its low thermal coefficient of sensitivity, which means that the sensor sensitivity changes very little with changing temperature.
This miniature accelerometer utilizes the latest in planar shear technology to generate clean low noise signals. The accelerometer is permanently bonded in an anodized aluminum isolation cup which electrically isolates the case from the mounting surface preventing "Ground Loop" interference. In addition, its low mass and high crystal stiffness allow this sensor to measure high frequency vibrations with very little error.
Model 3310C is packaged in a titanium case and weighs only 1.8 grams. Available with a sensitivity of 1.0 - 1.3 pC/g, this model is installed using adhesives or mounting wax. The sensor features a specially designed Dytran 3-56 coaxial connector, which mates with a supplied replacement cable, terminating to a 10-32 jack.
Typical uses for model 3310C include but are not limited to the following test applications: Environmental Stress Screening (ESS), mechanical shock testing, shock and vibration testing of small lightweight specimens (such as printed circuit boards), product response testing and for general purpose high temperature vibration measurements where space is at a premium.
For more information about model 3310C or other products available from Dytran, or to order online, visit www.dytran.com. Please call 818-700-7818 or email sales@dytran.com for more information and pricing.
About Dytran Instruments, Inc.:
Dytran Instruments, Inc. is the industry leader in innovative sensor technologies for product development testing and embedded solutions. Dytran specializes in designing and manufacturing custom high-end sensors, including piezoelectric and MEMS accelerometers, dynamic force and pressure transducers, USB accelerometers with software included, and digital bus-based sensors. Our products are used extensively in aerospace, automotive, military, R&D, test and measurement and industrial applications. Founded in 1980, we are an AS9100 and ISO17025 / A2LA certified company. Dytran has been serving the test and measurement community with innovative products and outstanding customer service for over 30 years. With a worldwide network of distributors and representatives, Dytran is ready to work closely with customers in developing unique solutions to their test and measurement challenges.
Learn more at www.dytran.com and on Linkedin, Facebook and Twitter.
Editorial Contact:
Judith Villalobos
Marketing Specialist
Dytran Instruments, Inc.
21592 Marilla Street
Chatsworth, CA 91311
Tel: 818-700-7818
For more information: https://www.dytran.com/Model-3310C-High-Temperature-Accelerometer-P2273/
Contact This Company Download Spec Sheet
More from Sensors, Monitors & Transducers