New Ultra-compact Filters with High-performing Attenuation
Press Release Summary: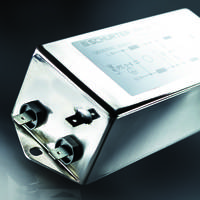 Designed for rated currents ranging from 1 A to 36 A at an ambient temperature of 40°C up to 250 V
Wires can be fast-connected or threaded to 6.3 x 0.8 terminals
Suiteable for use in applications confronted with stubborn electro-magnetic interferences such as any equipment with fast semiconductor processing speeds at high switching frequencies
---
Original Press Release:
Single-phase EMC Block Filter is Compact with Excellent Performance
Santa Rosa, California, July 20, 2020 – SCHURTER completes its portfolio of single-phase EMC filters with its FMBB EP series, launching a new generation of ultra-compact filters with high-performing attenuation. The new double-stage filter family is more powerful than typical filters, meeting the space constraints and performance requirements of today's state-of-the-art electronic devices. 
Top-quality components, including right-sized film capacitors and chokes with highly permeable cores, together with a steel housing, which is completely closed and spot-welded at the bottom, are critical design aspects of the FMBB EP's ability to provide exceptional low frequency common-mode attenuation, high to low frequency differential attenuation, and broad-band attenuation. The filter family is particularly suited for use in applications confronted with the most stubborn electro-magnetic interferences, such as any equipment with extremely fast semiconductor processing speeds at high switching frequencies, which are typically integrated into larger scale operations, where exposure to other noise generating devices exist. These operations for example include datacom, medical, test and measurement, and industrial.
The FMBB EP filters are designed for rated currents ranging from 1 A to 36 A at an ambient temperature of 40°C up to 250 V. Standard versions can be used over a temperature range from -40 °C to 100 °C, with manufacturer recommended deratings at higher temperatures. Variations in leakage currents are available for different applications: the standard version with 0.9 mA to 3.8 mA, for medical technology ≤ 5 µA or ≤ 80 µA. The FMBB EP is easily installed to a chassis using the screw flange on both ends. Wires can be quick-connected or threaded to 6.3 x 0.8 terminals. The series is ENEC and cURus approved.
Pricing starts at $27.00 for 100-piece quantities. Link to datasheet FMBB EP. For sales and product information, contact Cora Umlauf at (800) 848 -2600 or by email at [email protected].
If you have any questions please do not hesitate to contact [email protected].
About SCHURTER Inc.
The SCHURTER Group is the world's leading Swiss technology company providing components and complex solutions that ensure safe power supply and simplified equipment operation. The company's professional competence, financial independence, innovative strength and distinctive corporate culture, propel the SCHURTER Group, together with its customers and partners, into the digital future. The safe&easy brand claim not only refers to the products, but also the company's business philosophy, which strives for sustainable success through innovation, high-quality products and service, flexibility and proximity to customers.
SCHURTER is known globally as an innovator, manufacturer and distributor of fuses, connectors, circuit breakers, switches, EMC products, and input systems. Touch screens and touch panels, capacitive sensor keypads, membrane keypads and housing systems are developed in close cooperation with its customers. Within its business unit Solutions, SCHURTER combines all competencies and puts them at the customer's disposal. SCHURTER products and solutions are developed especially for specific industry segments – medical, data and communication, automotive, avionics & space, energy and the broader industrial market. SCHURTER considers the quality of its products and services as the key factor to the company's lasting success. Its management and improvement processes are designed and certified according to ISO 9001, ISO 13485, ISO 14001, ISO 45001 and IATF 16949, using the EFQM and Baldrige Excellence Models, as well as the application of Lean Management principles such as Value Stream Planning, Power Innovation, SSO, and Six Sigma.
SCHURTER Inc., Santa Rosa, California is the exclusive North America sales and distribution office for the SCHURTER Group.
Editorial Contact:
Suzanne Bowser
[email protected]