New UHP Fuses with Breaking Capacity Rated up to 3000 A
Press Release Summary: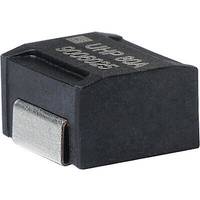 Operating temperature range is -55 °C to 125 °C
Available in six current ratings from 50-100 A at 80 VDC or 63 VDC
Applications including automotive, data center equipment, telecom equipment and power tools
---
Original Press Release:
UHP – High Current SMD Fuse for Primary Protection of Battery Systems
Santa Rosa, California, October 4th, 2022 – SCHURTER officially announces the launch of its newest addition to the SCHURTER Fuse portfolio: The fast-acting UHP High Current SMD Fuse, designed to safely interrupt high-energy overcurrent in battery systems. Specially designed for Safety Extra Low Voltage (SELV) applications, the UHP meets the high-breaking capacity requirements and fast trip time of an overcurrent situation by galvanically separating these immense energies.
Today, Lithium-ion batteries are the most prolific battery technology used across numerous industries, and their areas of application continue to grow exponentially. Modern smartphones and EV cars, for example, rely heavily on Li-ion battery systems for their fast charging capabilities, energy storage, and extended battery life. So, why is this important? As battery systems decrease in size and increase in performance, meeting safety requirements for devices and their users go hand in hand. In the event of a short circuit in the battery system, high amounts of stored energy can quickly be released. Such a short circuit event poses damage to the system and could result in a fire; therefore, the fuse serves as the primary protection against such unsafe conditions and must address the higher current on the PCB, where more power must be converted and dissipated. SCHURTER's new UHP fuse disconnects the circuit at twice the rated current within a maximum of 15 seconds. The rated breaking capacity of the UHP is up to 3000 A, depending on the configuration.
The UHP features a robust design with a small footprint, which allows for reflow solder process compatibility and space savings on the PCB. Operating temperature range is -55 °C to 125 °C. The UHP is well-suited for a wide variety of applications, including automotive, data center equipment, telecom equipment, and power tools, to name a few. The new UHP is available in six current ratings from 50-100 A at 80 VDC or 63 VDC, depending on the required breaking capacity of 3000 A or 2000 A. It is cURus approved and meets the high-reliability requirements of AEC Q200. It is RoHS compliant, Halogen-free, and bears the CE, UKCA, and REACH markings. Pricing for the UHP fuse starts at $0.35 each at 500 pieces. Link to UHP Datasheet. Link to Landing Page. For sales and product information, contact Savannah Lee at (800) 848-2600 or by email at [email protected].
About SCHURTER Inc
The SCHURTER Group is the world's leading Swiss technology company providing components and complex solutions that ensure safe power supply and simplified equipment operation. The company's professional competence, financial independence, innovative strength and distinctive corporate culture, propel the SCHURTER Group, together with its customers and partners, into the digital future. The safe&easy brand claim not only refers to the products, but also the company's business philosophy, which strives for sustainable success through innovation, high-quality products and service, flexibility and proximity to customers.
SCHURTER is known globally as an innovator, manufacturer and distributor of fuses, connectors, circuit breakers, switches, EMC products, and input systems. Touch screens and touch panels, capacitive sensor keypads, membrane keypads and housing systems are developed in close cooperation with its customers. Within its business unit Solutions, SCHURTER combines all competencies and puts them at the customer's disposal. SCHURTER products and solutions are developed especially for specific industry segments – medical, data and communication, automotive, avionics & space, energy and the broader industrial market. SCHURTER considers the quality of its products and services as the key factor to the company's lasting success. Its management and improvement processes are designed and certified according to ISO 9001, ISO 13485, ISO 14001, ISO 45001 and IATF 16949, using the EFQM and Baldrige Excellence Models, as well as the application of Lean Management principles such as Value Stream Planning, Power Innovation, SSO, and Six Sigma.
SCHURTER Inc., Santa Rosa, California is the exclusive North America sales and distribution office for the SCHURTER Group
For Immediate Release, Editorial Contact:
Stephanie Elliott
[email protected]
SCHURTER Inc
447 Aviation Boulevard
Santa Rosa, CA 95403
Tel +1-707-636-3000
Fax 707 636 3033
www.schurter.com