New u-Link Portal Securely Connects to User PC via VPN Software
Press Release Summary: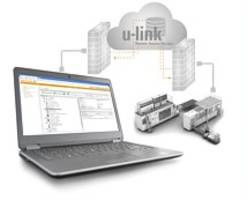 The u-Link Portal is a cloud-based service that is designed for remote machine monitoring and maintenance. This portal incorporates an intuitive web-based interface for easy configuration. The Weidmuller's security router when combined with u-link portal enables user to access machines and plants worldwide. The portal allows user to add up to 50 security routers and can access network devices such as switches, PLCs and Ethernet automation devices.
---
Original Press Release:
New Cloud-Based Service for Secure and Efficient Remote Machine Maintenance
RICHMOND, VA — Weidmuller announces the release of u-link, their new cloud-based service for remote machine monitoring and maintenance. The combination of u-link and Weidmuller's hardened industrial security router provides customers secure, easy and efficient access to machines and plants worldwide for improved servicing and reduced downtime.
Weidmuller's u-link cloud-based solution incorporates an intuitive web-based interface, the u-link Portal, to allow for easy configuration for customer applications. The u-link cloud functions as a meeting point, securely connecting a user's PC running the u-link VPN software, with the u-link enabled Weidmuller security router. Once the security routers are added to the u-link Portal, users can access network devices including switches, PLCs and other Ethernet capable automation devices for trouble-shooting, maintenance or PLC program changes.
u-link can be customized to suit needs, no matter how simple or complex the application may be. Managing users, groups and access rights, adding security routers and other user-defined devices can be easily accomplished without the need for in-depth IT expertise.
The new u-link cloud-based service is very cost-efficient. The entry version of the service allows users to add up to 50 security routers to the u-link Portal with no added cost. Customers already using the Weidmuller security routers only need to install the latest version of the security router firmware to access the u-link functionality. License upgrades are also available for use with up to 150, 300, 500 or an unlimited number of security routers.
Weidmuller supports customers and partners around the world with products, solutions and services in the industrial environment of power, signal and data. The company develops innovative, sustainable and useful solutions that set standards in Industrial Connectivity today and continually work toward providing solutions for the technology challenges of tomorrow. The Weidmuller Group owns manufacturing plants, sales companies and representatives in more than 80 countries.
Editor Contact
In the U.S. and Canada                                                    In Mexico
Andrew Barco                                                                   Esmeralda Amor Robles
(800) 268-4080                                                                 01 222 2866246/47/48 X103
andrew.barco@weidmueller.com                                     esmeralda.robles@weidmueller.com.mx
More from Fasteners & Hardware