New Type 22B4-60P Planetary Gearmotor Offers Commutation Angle of 120 Degrees
Press Release Summary: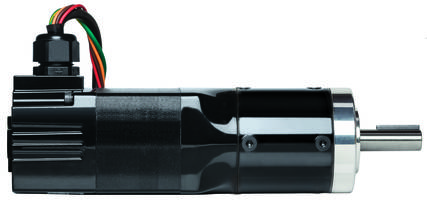 Bodine's Type 22B4-60P Planetary Gearmotor consists of 22B brushless DC motor and a 60P (60 mm) planetary gearhead. The motor is suitable for applications such as conveyors, pumps, packaging and industrial automation. The 22B DC motor is encoder-compatible and features flying leads terminated with connectors for simple plug-in operation. The 60P gearhead can be mounted in any direction and delivers a rated torque of 26 Nm. The gearhead comes with needle bearing supported steel gears.
---
Original Press Release:
Bodine's New Planetary BLDC Gearmotors: High Torque, Compact Design
Northfield, IL (August 2018) Bodine Electric Company introduces the new type 22B4-60P planetary gearmotor. This integral gearmotor combines Bodine's high-performance type 22B brushless DC motor with the new 60P (60mm) planetary gearhead. It is ideal for applications that require higher torque than conventional helical/spur gearheads of a similar size can provide, and where a very low backlash gearhead is not required. Typical applications include conveyors, pumps, packaging, industrial automation and wide range of solar- or battery-powered equipment.
Maintenance-free 22B Brushless DC Motor
The Bodine 22B brushless DC motor delivers quiet, maintenance-free operation with low electromagnetic-interference (EMI). It is encoder-compatible with the new optional screw-in encoder shaft kit. Standard/ stock models supplied with factory-installed cover over shaft opening. Flying leads terminated with connectors provide simple plug-in operation with Bodine chassis BLDC controls. Environmental protection is rated at IP-44. The commutation angle is 120°.
All-new type 60P Planetary Gearhead
The new 60P gearhead has a rated torque of up to 226 lb-in (26 Nm), and mounts in any orientation. The gearhead is permanently lubricated with high-performance grease, and features needle bearing supported, hardened steel gears for long life and maximum performance. The standard backlash of this gearhead is less than one degree.
The initial product launch includes sixteen standard models with gear ratios from 4:1 to 162:1. These stock models are offered with 130V and 24V windings. Rated torque ranges from 11 lb-in (1.3 Nm) to 226 lb-in (26 Nm). Stock models are available with either US/Inch or Metric drive shaft and mounting details.
Matching 24V Brushless DC Speed Control -120° Commutation
The new model 3919 BLDC speed control is designed to power the 22B-60P, 24VDC planetary gearmotors. This compact and competitively priced BLDC control has an input voltage range of 24-35 VDC. Control functions include dynamic braking, direction, and enable. Speed can be controlled by an external potentiometer (included), the onboard MAX speed trim potentiometer, or a 0-5 VDC analog input signal. User-adjustable pots control speed settings, torque limit, acceleration time. A 12 pulse/revolution tach output provides indication of motor speed.
Availability
The 22B4-60P planetary gearmotors and their corresponding accessory kits are available through Bodine's extensive distributor network or from the Bodine web site. Custom designs are available to qualified OEMs. Typical OEM modifications include factory installed encoders or brakes, custom windings or wire harnesses, and application-specific mounting and shaft details.
About Bodine
Bodine Electric Company offers over 1,200 standard stock products, and thousands of custom designed fractional horsepower (FHP) gearmotors, motors and motion controls (fixed and variable speed AC, brushless DC, and permanent magnet DC). Bodine gearmotors and motors are designed for demanding industrial and commercial applications such as medical devices, scientific and laboratory equipment, labeling equipment, printing presses, packaging equipment, and factory automation. Bodine Electric is headquartered in Northfield, Illinois (20 miles north of Chicago) with manufacturing and assembly operations in Peosta, Iowa, U.S.A. Bodine's quality management system is certified to ISO 9001. Web site: www.bodine-electric.com
Marketing Contacts
Sarah Prais, Sales and Marketing Communication Specialist | Edmund Glueck, Manager – Marketing and Product Development, Telephone: 773.478.3515 (USA). E-Mail: info@bodine-electric.com.
More from Test & Measurement