New TXP4000 Series Fan-Cooled PSU is RoHS Compliant and meets EN60950-1 Standards
Press Release Summary: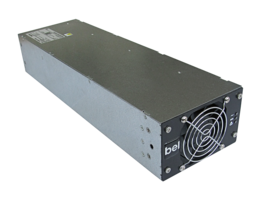 Offers Maximum 4000 W and adjustable output voltage ranging from 30 V to 137.5 V
Includes DSP technologies that enables monitoring of electrical parameters and allows control of the PSU from a system controller
Accommodate 3-phase input voltage range of 350-528 Vrms at up to 63 Hz and features operating temperature range of -25° to +55°C
---
Original Press Release:
Bel Power Solutions Announces Expansion of High Power Portfolio with TXP4000 Series for Industrial Applications
Fan-cooled PSU Offers a Maximum of 4000 W and Adjustable Output Voltage
Santa Clara, CA [March 19, 2020] - Bel Power Solutions today announced the expansion of their high power portfolio with the TXP4000 Series, a maximum 4000 W AC-DC power supply suitable for industrial, process and control, railway and machinery applications.
The TXP4000 Series of AC-DC converters employs a PFC front-end stage and an isolated DC-DC stage to convert the 3-phase input voltage to a low DC output voltage in a broad array of industrial applications where high efficiency is a requirement, with emphasis on both reliability and long product life. The TXP4000 Series also include DSP technologies which enable monitoring of electrical parameters (including input voltage of all 3-phases) and allow control of the PSU from a system controller. RS485 / CAN bus communication is available to command, monitor and provide diagnostic information that can be used to interface with a system controller.
TXP4000 Series power supplies feature a compact footprint (135 x 85 x 465 mm / 5.31 x 3.35 x 18.31 inches) and accommodate the worldwide 3-phase input voltage range of 350-528 Vrms at up to 63 Hz, with active current share system available. Units can be used in parallel (8 units) or serial configurations (4 units), generating a maximum output power of 32 kW. The output voltage is adjustable, ranging from 30 V to 137.5 V optimized to 110 V, fully protected against overvoltage, overcurrent, overtemperature and short circuit situations. 12 V auxiliary output is also available. A highly efficient thermal design with an internal fan cooling system permits their use over a wide operating temperature range of -25° to +55°C.
RoHS compliant, the power supplies are safety agency certified per CSA/UL60950-1 and meet the requirements of EN60950-1. The product meets the conducted and radiated EMI requirements of EN 55022-A
The TXP4000 is available from Digi-Key and Mouser. Customers can also request a quote through Bel's website. For more detailed product information, download the TXP4000 Series datasheet.
For technical inquiries, send an eMail to Tech.Support@psbel.cTech.Support@psbel.comom, call +1 866-513-2839 for North America, +49 6172 95520 for EMEA, +1 86 755 29885888 for Asia Pacific or visit belfuse.com/power-solutions.
About Bel
Bel (www.belfuse.com) designs, manufactures and markets a broad array of products that power, protect and connect electronic circuits. These products are primarily used in networking, telecommunications, computing, military, aerospace, transportation and broadcasting industries. Bel's product groups include Magnetic Solutions (integrated connector modules, power transformers, power inductors and discrete components), Power Solutions and Protection (front-end, boardmount and industrial power products, module products and circuit protection), and Connectivity Solutions (expanded beam fiber optic, copper-based, RF and RJ connectors and cable assemblies). The Company operates facilities around the world.
Media Contact:|
Susan Rawlish
susan.rawlish@belf.com
More from Agricultural & Farming Products