New Two Nano-Tinctures Features Nano-enhanced Absorption Technology
Press Release Summary: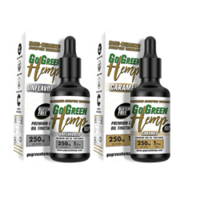 Made with water-soluble hemp extract in a nanoemulsion form
Available in unflavored and caramel flavors
Features 0.0% THC and 250mg per 1oz bottle
---
Original Press Release:
GoGreen Hemp Launches CBD Nano-Tinctures Expanding Its Product Line
GoGreen Hemp launches two Nano-Tinctures
Plantation, FLA. (PRWeb) April 15, 2019
GoGreen Hemp is excited to announce its release of the GoGreen Hemp CBD Nano-Tincture. The Nano-Tinctures are made with water-soluble hemp extract in a nanoemulsion form. These sublingual tinctures have a quicker response time and higher bioavailability than oil-based tinctures. Cannabidiol or CBD is a non-intoxicating component of the cannabis plant. CBD will not result in a feeling of euphoria, but it can aid in relaxation. Over the past years numerous studies have highlighted the potential of CBD. CBD has been recognized for its benefits on human and animal health, with the nanoemulsion technology, the body is able to receive such benefits at an expedited rate.
GoGreen Hemp's Nano-Tinctures will come in two different flavors: caramel and unflavored. The Nano-emulsion technology is a finely-engineered formula that uses optimized composition and a unique process to manufacture. The average absorption size of our CBD oil droplet is 25 nanometers, compared with 100-500 nanometers that is usually used by our competitors. The Tinctures are perfect for those who wish to find expedited relief that bypasses the primary metabolic pathway through the gut.
GoGreen Hemp's founder, Romas Marcinkevicius states "We added Nano-Enhanced tinctures to our product line to supplement our original tinctures. Consumers in the CBD marketplace are always looking for a product that provides relief faster and stronger, our nano enhanced tinctures are just that. A common misconception in the marketplace is that the "higher the milligram strength, the more effective", this is in fact not correct. The effectiveness of CBD comes down to the method of consumption and the source. " GoGreem Hemp prides itself in providing high quality products, and the Nano-Tinctures are no exception. Here are some of the product attributes: 
Water Soluble
Nano-Enhanced Absorption Technology
Highly Bioavailable
0.0% THC
250mg per 1oz Bottle
GoGreen Hemp plans on always staying ahead of the market trends. We are committed to ensuring high-quality products, low prices, and great customer service.
Go Green. Save Green.
About Go Green Hemp"
Founded in 2016, GoGreen Hemp is a family owned and operated company and the exclusive provider of GoGreen Hemp Products. Under the chief principles of providing great customer service and a superior product at some of the most affordable prices on the market. Our goal is to serve and educate our customers about the incredible powers of CBD and its potential to change the world around us. We take pride in informing our customers about the various choices they have when using CBD and how CBD can potentially supplement their daily regimen. For more information, please visit https://www.gogreenhemp.com 
Contact Information
Daniela Lozano
GoGreen Hemp
http://www.gogreenhemp.com
954-634-5684
More from Paints & Coatings