New Twin 900 HP DI13-Liter Engines Optimize Fuel Delivery
Press Release Summary: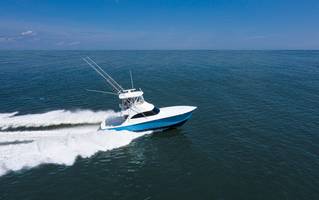 Offer anglers incredible acceleration with power-to-weight ratio
Equipped for inshore and offshore tournaments that is easy to maintain
Built on Compacted Graphite Iron (CGI) engine block and employs wastegate turbocharger
---
Original Press Release:
Scania-Powered Viking 46 Billfish is in Production
Twin 900 HP DI13-Liter Scania Engines Will Make Their Debut in North American Pleasure Craft Market Powering a New Viking 46-foot Billfish
San Antonio, Texas – Scania, one of the world's leading manufacturers of engines for boats, trucks, buses and industrial applications, announced today a new build, 46-foot Viking Billfish sportfishing yacht (46BF) will include two recently introduced, recreationally rated Scania 900 HP Dl13-liter in-line six-cylinder engines, offering anglers incredible acceleration with an industry-leading power-to-weight ratio. The beautiful, new 46-foot Billfish, one of three Billfish models from Viking, was commissioned by Mack Boring to be used as a platform to demonstrate the reliability and performance of Scania's new engines to the recreational market. This vessel will travel the East Coast waterways and be utilized for fishing tournaments and events.
Viking is the premier manufacturer of the highest-quality sportfishing and motor yachts ranging from 38- to 93-feet. The 46BF is ideally equipped for inshore and offshore tournaments, is easy to maintain and offers all of the amenities of a comfortable and versatile cruising boat. The perfect platform for Scania's new engines, it is built for maximum efficiency and optimized for strength and stiffness while minimizing weight.
Built on a Compacted Graphite Iron (CGI) engine block and employing a simple wastegate turbocharger, the twin Scania DI13-liter engines deliver top-of-class performance without the need for additional turbos or superchargers. The resulting lighter weight, combined with Scania's proprietary Engine Management System (EMS) and common rail extra high-pressure injection system (XPI), optimizes fuel delivery enabling impressive torque, lower noise and exceptional fuel efficiency.
"When the team at Mack Boring commissioned this 46BF and requested we install Scania engines, we were intrigued," said Anthony Scola, international sales manager, Viking Yacht Company. "We're looking forward to the upcoming launch and seeing the vessel underway."
"When we looked for the best option to introduce the new Scania Marine engines to the Recreational Market, we were naturally interested in the Viking line up. The 46-foot Billfish will be a perfect match to show the power and performance that Scania is known for," said Patrick McGovern, president, Mack Boring. "Add to that Scania's industry-leading fuel efficiency, exceptional customer and technical support, and parts availability ensuring 98% parts availability within 24 hours, and we are sure that this is the best power option for consumers."
"When Mack Boring informed us of their desire to use our engines in their new vessel we were thrilled," said Al Alcalá, sales manager, Scania USA Marine. "It was only a few months ago that we released our Tier 3 Recreational certified engines in the United States and Canada, and to be able to collaborate with a renowned builder like Viking in such short order is truly a testament to all of the hard work and dedication of our design team. We can't wait to see this new boat in action."
For more information on Scania pleasure craft engines and Smart Support, or to locate a dealer near you, please visit www.scaniausa.com. For more information on the Viking 46BF, please visit www.vikingyachts.com.
About Scania
Scania is a world-leading provider of transport solutions. Together with our partners and customers we are driving the shift towards a sustainable transport system. In 2019, we delivered 91,700 trucks, 7,800 buses as well as 10,200 industrial and marine engines to our customers. Net sales totaled over SEK 152 billion, of which about 20 percent were services related. Founded in 1891, Scania now operates in more than 100 countries and employs some 51,000 people. Research and development are concentrated in Sweden, with branches in Brazil and India. Production takes place in Europe, Latin America and Asia, with regional production centers in Africa, Asia and Eurasia. Scania is part of TRATON SE. For more information visit: www.scaniausa.com. 
More from Thermal & Heating Equipment