New TundraBrick Colors Provide Additional Options for Designers
Press Release Summary: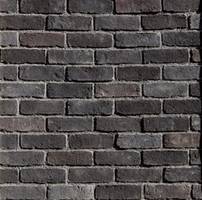 Eldorado Stone has introduced Ironside and Latigo as extensions of its TundraBrick line of colors. The Ironside, which is a matte black with red undertones, is intended for darker palettes and Latigo, for lighter palettes, is a white brick with ivory and blue overtones. These products can be used indoors or outside as focal points or accent walls.  The bricks are distressed and slightly squared, as well as being hand painted for depth of color.
---
Original Press Release:
Eldorado Stone Introduces Striking Black and Cool Multicolored Brick Colors
SAN DIEGO (PRWEB) MARCH 28, 2018
Eldorado Stone strikes a mood with two new TundraBrick® colors, Ironside and Latigo. With elements of charcoal and ash, the rich, dark tone of Ironside adds a matte black option accentuated with red undertones to the characteristic brick profile and is perfect for adding depth to darker design palettes. On the lighter side of the spectrum, the sun-kissed tones of Latigo add a meticulously layered, mosaic-like option to the color repertoire of the contemporary brick veneer. While more prominently white, touches of ivory and shades of dusty blue create a sophisticated depth of complementary earth tones.
"Working closely with the architectural and designer communities, we developed Ironside and Latigo as customer-driven color options that highlight our passion for delivering products that are both authentic and artistic," said Sarah Lograsso, Director of Marketing. "These new options serve as a natural extension of the color palettes we've explored with TundraBrick and other profiles within the Modern Collection, which have been crafted to enhance the visual appeal of any space."
TWEET THIS: Two new colors taking traditional brick to the dark side and the light, Ironside and Latigo #TundraBrick represent innovative design possibilities from @eldoradostone bit.ly/ESTundra
With the introduction of Ironside and Latigo, Eldorado Stone reveals the next generation of modern color options and continues to innovate beyond the tones and textures found in traditional clay bricks. Whether applied on an accent wall or as the focal point of a space, both options exhibit a seasoned appearance that lends a sense of personality to any introspective and imaginative space.
A definitive brick with distressed surfaces and slightly squared edges, the TundraBrick profile offers a contemporary option for indoor and outdoor applications. In addition to Ironside and Latigo, TundraBrick is available in Ashland, Chalk Dust, Riverbed and Hartford. Each brick is hand-painted to create color depth and rich tones that are unmatched in the industry.
To learn more about Eldorado Stone and its products, visit eldoradostone.com.
More from Optics & Photonics