New Tub and Shower Faucets Feature a Customizable Spray Technology
Press Release Summary: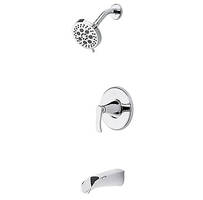 The Jaida Collection of plumbing fixtures from Pfister recently debuted new tub and shower faucet fixtures. The fixtures feature Restore, which is a customizable spray technology that is available on the showerheads using aperture-like nozzles allowing it to provide customizable spray configurations. The faucets are available in polished chrome, brushed nickel and tuscan bronze.  They also meet EPA WaterSense standards.
---
Original Press Release:
Pfister Debuts New Additions To Jaida Collection, Available At Lowe's Nationwide
-- Popular trough design expanded to new tub & shower and bath faucets --
LAKE FOREST, Calif., Nov. 13, 2018 /PRNewswire/ -- Pfister, an industry leader in plumbing fixtures with many first-to-market products, today announced the launch of its newest additions to its popular Jaida™ collection, available in November on major online retailers such as Amazon.com, Lowes.com, TheHomeDepot.com and Build.com. Jaida, with its hallmark trough design, expresses grace and elegance with soft sleek lines. The versatile collection complements bath designs from modern to transitional. New additions to the collection include the Wide Spread faucet and Tub & Shower in Polished Chrome, Spot Resist Brushed Nickel and Tuscan Bronze. The current Single Control faucet will now be available in the new Spot Resist Brushed Nickel finish. The Tub & Shower configuration delights with a water fall tub spout that matches the design of the bath faucets for a perfectly coordinated look. 
A technological highlight is the ground-breaking Restore™ customizable spray technology available on the new Jaida shower head. Expertly designed for a personalized shower experience, Restore uses innovative aperture-like nozzles – similar to what is used to focus camera lenses and flashlight beams – that allow unlimited customizable spray configurations with a simple turn of the spray face. Users can adjust the width of the spray to address their specific shower needs—for example, a narrow spray for cleaning or shaving, or a wide spray for rinsing the body and hair. Additionally, Restore offers a Full Coverage setting for relaxation, and a Powerful Massage setting to help relieve tension. Restore features wipe-clean nozzles and easy three-step installation.
"The expansion of the Jaida collection is a testament to the popularity of Pfister's unique trough design. Trough waterfall fixtures continue to be at the top of the wish list for style-conscious home owners and remodelers. Expanding the style to the tub spout offers home owners a unique opportunity to match the fixture design throughout the bathroom and experience trough water delivery." said Darin Heuer, Group Marketing Manager for Pfister. "With Restore customizable spray technology Pfister is redefining customization in the shower space. Responding to recent water conservation legislation, Restore offers consumers a shower experience that maximizes every drop."
The new additions to the Jaida collection are available in versions that meet or exceed EPA WaterSense® standards. The Pfister Forever Warranty covers their finish and function for life.
To learn more about Pfister and its portfolio of styles and finishes, please visit https://www.pfisterfaucets.com/innovations.
ABOUT PFISTER
Pfister is part of Hardware and Home Improvement (HHI), a major manufacturer and supplier of residential locksets, residential builders' hardware and plumbing with a portfolio of renowned brands, including Kwikset®, Weiser®, Baldwin®, National Hardware®, Pfister® and EZSET®. HHI is a leader in its key markets with #1 positions in U.S. residential locksets (Kwikset), Canada residential locksets (Weiser), U.S. luxury locksets (Baldwin), and U.S. builders' hardware (National Hardware), and #3 in U.S. retail plumbing (Pfister). Headquartered in Orange County, California, HHI has a global sales force and operates manufacturing and distribution facilities in the U.S., Canada, Mexico and Asia.
HHI is a division of Spectrum Brands Holdings, Inc. Spectrum Brands is a global, diversified consumer products company and a leading supplier of residential locksets, residential builders' hardware and plumbing, shaving and grooming products, personal care products, small household appliances, specialty pet supplies, lawn and garden and home pest control products, personal insect repellents, and auto care products. Spectrum Brands employs nearly 18,000 employees worldwide and sells to the top 25 global retailers with products in more than one million stores.
More from Machinery & Machining Tools