New TS8980 RF Test System Supports 2G to 5G Mobile Technologies
Press Release Summary: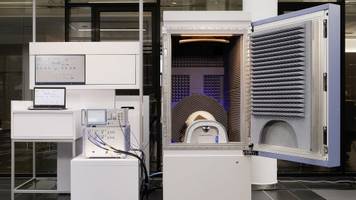 Includes R&S CMX500 radio communication tester and RF conformance system to provide 5G NR signaling functionality
Features gold-coated reflector that provides large quiet zone of 30 cm, fulfilling 3GPP 5G NR conformance test requirements
Offers frequency range 18-90 GHz and is ideal for 5G NR FR2
---
Original Press Release:
Rohde & Schwarz Presents Cutting-Edge Conformance Testing Solution for 5G NR FR2
Rohde & Schwarz highlights its innovative 5G conformance solution for both FR1 and FR2, featuring the latest version of the popular R&S TS8980 RF test system, now covering 5G NR. To enable over the air (OTA) testing, the solution includes the new R&S ATS1800C compact antenna test range (CATR) based 5G NR mmWave test chamber.
5G NR necessitates new testing approaches. The introduction of the new, mmWave based FR2 frequency range for 5G and the increased use of active antennas without physical connectors requires testing to be performed over the air (OTA). Rohde & Schwarz has developed a test solution able to perform the first tests for RF conformance in 3GPP FR2. The device under test, a 5G smartphone, is placed in the R&S ATS1800C chamber. The chamber is also available in a new special configuration for extreme temperature testing in 3D.
A test system for mobile technologies up to 5G
The R&S TS8980 is a well-established family of RF conformance test systems. With the addition of the new R&S CMX500 radio communication tester, the RF conformance system gets 5G NR signaling functionality.
The upgraded R&S TS8980FTA is the only RF conformance test system in the market supporting mobile technologies all the way from 2G to 5G on one platform. A unique feature of the R&S TS8980FTA is the smooth upgrade path to 5G. Users who already have the previous version of the R&S TS8980 can upgrade to 5G RF FR1 testing by adding the R&S CMX500 as an extension box. While in FR1 all the tests are done in conducted mode the need in FR2 is to test over-the-air. This is realized by extending the TS8980FTA by a very compact CATR system.
Compact, flexible CATR system for FR2 testing
A CATR testing solution features a reflector to minimize the space requirements for OTA tests. For the 5G frequency range FR2 user equipment conformance test, CATR designs are the best practical choice since the required plane wave signals are available in distances measured in decimeters from the reflector, instead of meters as in direct far field chambers. A CATR setup is reciprocal and can be used for the transmission characteristics of the device, as well as the receiver characteristics.
The setup includes the new CATR based R&S ATS1800C for FR2 testing. It is a turnkey, high-end chamber with the smallest footprint in the industry of only 1.3 m², featuring class-leading signal integrity and shielding in a small space. The solution includes a gold-coated reflector providing a large quiet zone of 30 cm, fulfilling 3GPP 5G NR conformance test requirements. Completing the test setup is a configuration for extreme temperature testing. With a frequency range 18-90 GHz, the solutions have potential applications well beyond the current FR2 bands.
Short demo videos about this and other industry-leading wireless test solutions from Rohde & Schwarz are available at www.rohde-schwarz.com/mwc.
All press releases, including photos for downloading, are available on the Internet at http://www.press.rohde-schwarz.com.
Press contacts:
Europe (headquarters): Christian Mokry (phone: +49 89 4129 13052; email: press@rohde-schwarz.com)
North America: Tomas Berghall (phone: +1 503 5239489; email: Tomas.Berghall@rsa.rohde-schwarz.com)
Asia Pacific: Wen Shi Tong (phone: +65 6 307-0029; email: press.apac@rohde-schwarz.com)
Rohde & Schwarz
Rohde & Schwarz is a leading supplier of solutions in the fields of test and measurement, broadcast and media, aerospace | defense | security and networks and cybersecurity. The technology group's innovative communications, information and security products help industry and government customers ensure a safer and connected world. On June 30, 2019, Rohde & Schwarz had about 12,100 employees. The independent group achieved a net revenue of EUR 2.14 billion in the 2018/2019 fiscal year (July to June). The company is headquartered in Munich, Germany, and has subsidiaries in more than 70 countries, with regional hubs in Asia and America.
Rohde & Schwarz USA, Inc.
6821 Benjamin Franklin Dr, Columbia, MD 21046, USA
Berghall Tomas
Phone : +1-503-523-9489
Tomas.Berghall@rsa.rohde-schwarz.com
https://www.rohde-schwarz.com/us/home_48230.html
More from Fluid & Gas Flow Equipment