New TS-7553-V2 Single Board Computer is Designed for Industrial Internet of Things (IIoT) Sector
Press Release Summary: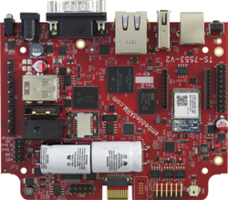 Features NXP i.MX 6UltraLite processor with a single ARM Cortex-A7 core that operates at speeds up to 696 MHz
Offered with on-boar XBee interface that supports XBee or NimbeLink for adding wireless interfaces
Equipped with HXDW gateway for public or private LoRaWAN IIoT deployments
---
Original Press Release:
Technologic Systems, Inc. and Haxiot Bring LoRaWAN™ to the TS-7553-V2 Single Board Computer
Haxiot and the TS-7553-V2 makes an easy to manage and flexible experience on an i.MX 6UltraLite powered single board computer.
DALLAS AND FOUNTAIN HILLS, ARIZ. (PRWEB) FEBRUARY 22, 2019 - Today, Technologic Systems, Inc. announced they will be partnering with Haxiot to make LoRaWAN available for the TS-7553-V2 single board computer. The TS-7553-V2 is developed around the NXP i.MX 6UltraLite, a high performance, ultra-efficient processor family featuring an advanced implementation of a single ARM Cortex-A7 core, which operates at speeds up to 696 MHz. While able to support a wide range of embedded applications, the TS-7553-V2 was specifically designed to target the industrial Internet of Things (IIoT) sector.
On the Radio 
The TS-7553-V2 has three USB Host interfaces (1x External, 1x Internal, 1x Daughter Card Header) that enable support for multiple types of networks via a dongle or USB connected device. It is through this interface that the TS-7553-V2 connects using the Haxiot HXDW USB Picocell Gateway module. The HXDW is a 8-Channel gateway suitable for public or private LoRaWAN IIoT deployments. In addition, Haxiot also has Mini-PCIe and SPI form factors under development.
"As an end-to-end LoRaWAN™ solution provider, our mission is to simplify the deployment and operation of Enterprise IoT solutions at scale," says Nik Kitson, CEO of Haxiot. "Our new Edge Computing capability, which enables a wide range of industrial gateway vendors such as Technologic Systems, brings the unique capabilities of our X-ON platform to more enterprise customers in need of distributed intelligent edge applications for mission critical use cases.
It's All Connected 
The TS-7553-V2 was designed with connectivity in mind. An on-board XBee interface, capable of supporting XBee or NimbeLink, provides a simple path to adding a variety of wireless interfaces. An XBee radio can be used to link in with a local 2.4 GHz or sub 1 GHz mesh networks, allowing for gateway or node deployments. Either Digi or NimbeLink offer cellular radios for this socket, providing cellular connectivity for applications such as remote equipment monitoring and control. There is the option for a cellular modem via daughter card allowing transmission of serial data via TCP, UDP or SMS over the cellular network. The TS-7553-V2 also includes an on board WiFi b/g/n and Bluetooth 4.0 option, providing even more wireless connectivity.
"With all of the wireless and wired connectivity features we've included on the TS-7553-V2", says Robert Miller, President and Founder of Technologic Systems, "it's designed to talk to almost anything, help monitor any IIoT deployment, and be a rock solid gateway in your connected industrial deployments. Giving it the ability to communicate via LoRaWAN was the logical next step. Haxiot had a reliable, industrial, USB solution that was easily implemented for a true LoRaWAN gateway. We look forward to partnering with them in order to continue expanding our LoRaWAN portfolio."
Bringing It All Together 
Combining all of these radio options with the on-board 10/100Base-T Ethernet creates the opportunity to communicate seamlessly with up to five different networks simultaneously from a single point.
The combination of edge computing with LPWA makes the Haxiot solution unique. At the software level, Haxiot gives Enterprise customers access to mission-critical sense and control features at the edge, allowing for real-time device management and operational visibility. The integration with industrial edge gateway vendors opens the door to creating enterprise solutions with heightened security, data privacy,and allows for new scenarios using machine learning and artificial intelligence.
See this technology in person as well as other LoRaWAN demonstrations and technology at the Haxiot Booth/LoRa Alliance Booth in Hall 8.0 Stand 8.0D3. at Mobile World Congress, Barcelona.
For more Haxiot information, specifications, and data sheets please visit: http://www.haxiot.com
For more TS-7553-V2 information, specifications, and data sheets please visit: http://www.embeddedarm.com/products/TS-7553-V2
About Technologic Systems, Inc. 
Technologic Systems has been in business for 32 years, helping more than 8000 OEM customers. We build over a hundred different COTS products that have never discontinued a product. Our commitment to excellent products, low prices, and exceptional customer support has allowed our business to flourish in a very competitive marketplace. We offer a wide variety of single board computers, computer-on-modules, touch panel PCs, PC/104 and other peripherals, and industrial controllers that satisfy most embedded project requirements. We also offer custom configurations of our standard products and provide design services for fully customized products. We specialize in the ARM and X86 architectures, FPGA customization, and open-source software support, providing advanced solutions using hardware-software co-design strategies.
Technologic Systems 
Fountain Hills, AZ 
http://www.embeddedARM.com 
(480)837-5200
About Haxiot
Haxiot is the industry leader in hybrid device-to-cloud & edge solutions for enterprise & industrial IoT. The Haxiot X-ON platform provides rich IoT data and value-added services on edge gateways and cloud, enabling real-time process control & predictive maintenance. Haxiot's solution is proven to enable enterprise customers with faster time to market, low integration cost & positive ROI for IoT data. Haxiot is headquartered in Dallas, TX with distributors in China, North America & LATAM markets. For more information, please visit http://www.haxiot.com.
Contact Information
Alan E Brown
Technologic Systems
4808375200
More from Electrical Equipment & Systems