New TS-5010-24 Waterproof PC from Teguar Comes with Built-In TPM Chip
Press Release Summary: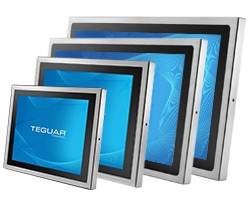 Available with 24 in. widescreen that provides extra screen real estate and high resolution LCD touchscreen, housed in a sleek and durable bezel
Applications include academic medical centers, clinics and pharmaceutical manufacturing
Meets all clinic's requirements and secures sensitive data
---
Original Press Release:
Teguar's TS-5010 Waterproof PC is Now Available with a 24" Touchscreen
Teguar launched the TS-5010 Waterproof Computer Series in late 2017. Today, these stainless steel PCs are used around the world in food and beverage manufacturing facilities and pharmaceutical production environments. We are happy to announce a new addition to this series with the TS-5010-24. This 24" widescreen computer provides extra screen real estate and a high resolution LCD touchscreen, housed in a sleek and durable bezel.
Teguar had originally offered the TS-5010 Series in screen sizes of 15, 19, and 22", when a customer came to us with a new project. The customer, a large academic medical center, already had three Teguar 24" Stainless Steel units on their pharmaceutical manufacturing line. Those computers ran reliably, but the clinic realized the need for TPM security. A TPM chip is built into the computer hardware and it guards sensitive data. In this case, the customer needed TPM to protect sensitive cancer drug information, but a TPM chip could not be installed on their current computers.
The clinic required a 24" screen to run Epic software and fanless, durable housing that could be sterilized in their clean room. The TS-5010-24 was able to meet all of the clinic's requirements. After successfully deploying over fifty TS-5010-24 computers, Teguar has added the product to our portfolio.
Contact:
Kathryn Armstrong
Teguar Corporation
Digital Marketing Assistant
Phone: 7044129537
Email: karmstrong@teguar.com
Contact This Company Download Spec Sheet
More from Computer Hardware & Peripherals