New Trash Compacting System Vacuums Air from Trash Cans
Press Release Summary: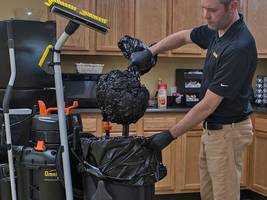 Kaivac's new trash compacting system is capable of reducing trash volume by up to one half. The system features a vacuum wand that, when placed in the liner of a trash can, vacuums out the air that has collected there. In addition to the vacuum wand the system features a trash can and a strap attachment.
---
Original Press Release:
Getting the Air Out of Trash Collection
Kaivac's new trash compacting system vacuums out the air that collects in trash liners, reducing trash volume by about one-half. 
Quick and easy to use. Place the specially designed vacuum wand in the liner. The liner constricts and does not "rebound" to its original size.
This frees up space, so the user can collect more trash, saving time by reducing the number of trips to the dumpster.
The system includes a durable trash can; strap attachment to one of Kaivac's OmiFlex™ cleaning systems; and a vacuum wand.
Click here for product image.
To see the system in action, click here.
For more information, contact Kaivac Global Head Quarters at www.kaivac.com, email info@kaivac.com, or call 513-887-4600.
For more information in Europe, the Middle East and Africa, visit www.kaivac-emea.com, email office@kaivac-emea.com, or call +43 6216 4524 15
About Kaivac, Inc.
Kaivac is the developer of the No-Touch Cleaning® and OmniFlex™ Crossover Cleaning systems.  Headquartered in Hamilton, Ohio, Kaivac, Inc. delivers complete science-based cleaning systems designed to produce healthy results and outcomes while raising the value of cleaning operations and the professionalism of the worker. Kaivac offers an integrated portfolio of environmentally friendly cleaning products designed to remove the maximum amount of soil and potentially harmful biopollutants in the most cost-effective manner possible.
More from Packaging Products & Equipment