New ToughStripe Max Floor Marking Tape Features Tapered Edges
Press Release Summary: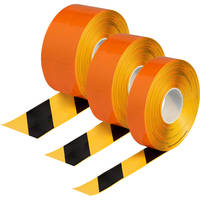 The ToughStripe® Max Floor Marking Tape is designed for use in high-traffic areas where sliding or dragging forces occur. The unit's tapered edges reduce pick points and traffic bumps for use in forklift and industrial vehicle areas. It can be applied and removed easily and need minimal tool for installation.
---
Original Press Release:
Brady Launches ToughStripe® Max Floor Marking Tape
New floor marking tape provides greater thickness for improved durability
MILWAUKEE, Wis. (September 25, 2018) — Brady (NYSE:BRC), a global leader in industrial and safety printing systems and solutions, announced today the launch ofToughStripe Max Floor Marking Tape. This new floor marking tape is ideal for high-traffic areas where sliding or dragging forces often occur.
"ToughStripe Max floor marking tape offers greater thickness that resists cuts and scrapes and maintains the great adhesive capabilities that our ToughStripe line of tape is known for," said Anisia Peterman, regional product manager at Brady. "By adding this new floor marking tape, we've expanded our overall floor and area marking offering so that end users have a variety of options that align with applications throughout their facility, as well as budget needs."
Along with a thicker, more durable material, the tape also has tapered edges to minimize "pick points" and traffic bumps, making it especially useful in forklift and industrial vehicle areas. ToughStripe Max tape is also easy to apply and remove, and requires minimal tools for installation.
To learn more about ToughStripe Max and other floor and area marking tape, visit BradyID.com/ToughStripe.
For More Information
For the complete product offering from Brady, visit BradyID.com.
About Brady Corporation: 
Brady Corporation is an international manufacturer and marketer of complete solutions that identify and protect people, products and places. Brady's products help customers increase safety, security, productivity and performance and include high-performance labels, signs, safety devices, printing systems and software. Founded in 1914, the Company has a diverse customer base in electronics, telecommunications, manufacturing, electrical, construction, medical, aerospace and a variety of other industries. Brady is headquartered in Milwaukee, Wisconsin and as of July 31, 2017, employed approximately 6,300 people in its worldwide businesses. Brady's fiscal 2017 sales were approximately $1.11 billion. Brady stock trades on the New York Stock Exchange under the symbol BRC. More information is available on the Internet at http://www.bradyid.com/corporate.
Media Contact: 
Jackie Hahn, (414) 438-7024
Jackie_Hahn@bradycorp.com
Product Contact:
Anisia Peterman, (414) 438-7051
Anisia_Peterman@bradycorp.com
More from Controls & Controllers