New Touchscreen Window Displays Come with Responsive Touch Technology
Press Release Summary: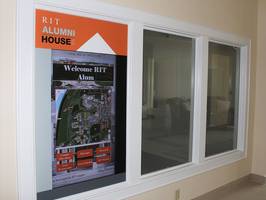 The Touchscreen Window Displays are suitable for hospitals, universities and office building. The product provide of interactive wayfinding, event calenders, marketing material, safety information, games, menus, weather and news.
---
Original Press Release:
Empire Digital Signs is Turning Ordinary Windows Into a Unique Experience
Empire Digital Signs is a digital signage company based in Rochester, NY, specializing in both standard digital signage as well as interactive digital communication solutions. EDS has created a one of a kind experience by converting ordinary windows into interactive touchscreen displays. A touchscreen window is something that can benefit any business that wants to be innovative, high-tech, and ahead of the game. These systems are quickly becoming popular in places like hospitals, universities, and office buildings.
Now, you can create a unique user experience without taking up space, in just about any size. With all the functionality of an interactive display or kiosk and the same responsive touch technology of your smartphone, this product is entering the market as something unique and cutting edge. Display 2D and 3D turn by turn navigation, event calendars, web pages, games, and so much more to entertain, inform, and instruct your audience.
Some things you can include on your window touchscreen:
▪ Interactive wayfinding (2D/3D)
▪ Event calendars
▪ Marketing material
▪ Safety information
▪ Websites/webpages
▪ Games
▪ Sign-up forms
▪ Menus
▪ Weather & news
▪ Surveys
Like interactive kiosks, these window displays can fit within any business or market and improve operational efficiency, awareness, and communication. But, unlike kiosks, these take up almost no space in your facility, can face either indoor or outdoor without added risk or price, and really "wow" whoever interacts with them.
For more information on interactive touchscreen windows, contact Leah Fritz at lf@empiredigitalsigns.com.
Empire Digital Signs
200 W Ridge Rd. Suite 212
Rochester, NY 14615
More from Labels Tags Signage & Equipment