New Total Folia Metalworking Solution is Less Hazardous to Environments
Press Release Summary: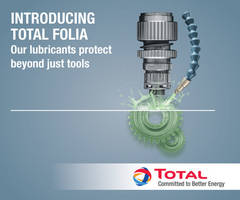 The Total Folia Metalworking Solution is free from mineral oils and emulsifiers and features high cooling and lubricating properties. It is suitable for use in health, safety and environments. The product offers health benefits such as bio sources, no smell, no fume and no skin irritation.
---
Original Press Release:
Total Brings TOTAL FOLIA to Market
HOUSTON, Sept. 6, 2018 /PRNewswire/ -- The Lubricants Business Line of Total Specialties USA, Inc. (TSUSA), announces the launch of TOTAL FOLIA, a revolution in the field of metalworking. TOTAL FOLIA is a bio-sourced solution free of mineral oils and emulsifiers with high cooling and lubricating properties. This offers users a unique solution for a variety of operations.
TOTAL FOLIA provides substantial productivity gains through outstanding cooling and lubrication properties, reduction of process stops, longer tool life and reduced operating costs. Tooling costs in machining are a significant component of operating costs and because TOTAL FOLIA allows high temperatures to be reached, the tenacity of the tool and its natural wear increase.
TSUSA is committed to energy that is affordable, reliable and clean, in compliance with the highest safety and environmental standards and is proud to bring such a tangible solution to the challenges faced in the metalworking industry. Moreover, TOTAL FOLIA addresses three important focus areas: health, safety and environment.
Health Benefits: bio sourced, no smell, no fumes due to high cooling power, no skin irritation due to lack of mineral oils, cleaner operations and workspace.
Safety Benefits: limited inventory due to less stock keeping unit, non-slippery and spotless flooring, less hazardous components.
Environmental Benefits: long fluid lifespan, less hazardous to the environment, normal waste treatment methods can be applied, bio-sourced raw materials.
TSUSA continues to differentiate from competitors by listening to its customers and bringing safe and clean working conditions to market with TOTAL FOLIA. TSUSA will be exhibiting at the International Manufacturing Technology Show in Chicago, IL over September 10-15, 2018 to launch TOTAL FOLIA. Visit Total at booth 121246 on Level 2 of the East Building at McCormick Place.
About Total Specialties USA, Inc.
Headquartered in Houston, Texas, Total Specialties USA, Inc. is a part of the Americas Division for the Marketing & Services Branch of the Total Group. Total Lubricants, a business unit of Total Specialties USA, Inc. offers a comprehensive range of oils, greases and special products for a range of industries. Our products are sold through a comprehensive network of distributors, direct channels and an online presence.
About Total Lubrifiants
Total Lubrifiants is a leading global manufacturer and marketer of engine oils and lubricants. It has 41 production plants worldwide and more than 5,800 employees in 150 countries. Total Lubrifiants offers innovative, efficient and environmentally responsible products and services developed by more than 130 researchers at its R&D center. Total Lubrifiants is a partner of choice for the automotive, industrial and marine markets.
CONTACT: Sarah Gorey, (713) 969-4701, sarah.gorey@total.com
Web Site: http://www.totalspecialties.com
More from Printing & Duplicating Equipment