New TORQUEPROTECT System Compatible with Lights, Buzzers and Warning Beacons
Press Release Summary: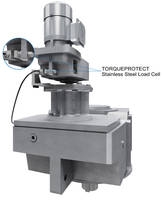 Designed for wastewater treatment facilities, power generation plants and industries that require low-speed, high-torque drives
Delivers continuous feedback, which allows users to know when loads are trending high or low than expected
Provides 24/7 torque load monitoring that eliminates costly drive equipment and operational failures
---
Original Press Release:
NORD's TORQUEPROTECT™ Delivers Unmatched Visibility and Control Over Torque Performance
Real-time torque monitoring and feedback provide peace of mind to operators in wastewater treatment and power generation industries
TORQUEPROTECT provides 24/7 torque load monitoring that can eliminate costly drive equipment and operational failures. Centralized and remote monitoring are available.
NORD Gear Corporation, a world leader in drive technology solutions, announces the availability of TORQUEPROTECT™, a gearbox torque monitoring system designed for wastewater treatment facilities, power generation plants and other industries that require extreme low-speed, high-torque drives.
The NORD TORQUEPROTECT system provides real-time load monitoring and continuous feedback to give operators complete visibility and control over the entire torque performance process. Unlike traditional spring load monitoring systems that can only provide readings at specified maximum load ratings, TORQUEPROTECT delivers continuous feedback, which allows users to know when loads are trending higher or lower than expected and take corrective action as needed.
Torque monitoring is especially critical for wastewater clarifier applications where even small strains in the load cell can create big problems. A clarifier is designed for continuous operation and if the system becomes overloaded for any reason, a million-dollar clarifier may be shut down for several days or weeks. There's also the risk of incurring significant costs associated with repairing or replacing expensive industrial gearboxes that may become damaged without accurate torque monitoring.
"As a leader in gear reducers for water treatment industries, we understand the importance of providing this feature to our customers operating in such complex environments," said Tom Koren, director of engineering at NORD. "From lowering maintenance costs and prolonging the life of equipment to ensuring greater stability and uptime, the TORQUEPROTECT system provides financial and operational peace of mind for these high-stakes applications."
NORD TORQUEPROTECT features
Available in two configurations, the NORD TORQUEPROTECT monitoring system includes:
A NORD gearbox
NEMA 4X stainless steel control panel using Avery Weigh-Tronix scale head with proprietary NORD firmware
An IP67 sealed stainless steel load cell to continuously monitor torque
A digital display, which provides continuous torque monitoring feedback displayed as a percentage of maximum acceptable load – as defined by the customer
Three user-adjusted relay set points and corresponding indicator lights on front panel, plus a fourth indicator light to ensure system is fully functioning, wiring is correct and load cell is active
Compatibility with user-supplied devices, such as stack lights, buzzers and warning beacons.
A 4-20mA analog output module that allows remote monitoring (Available with the Advanced TORQUEPROTECT package)
Any disruption to a wastewater treatment system can have serious economic and public health consequences, according to the Environmental Protection Agency. Wastewater in the United States is primarily treated by Publicly Owned Treatment Works (POTWs) and by private facilities, such as industrial plants. The EPA estimates 16,255 POTWs provide wastewater collection, treatment and disposal service to roughly 75 percent of the U.S. population, treating 32 billion gallons of wastewater each day,
The TORQUEPROTECT system provides continuous, real-time torque load data to a control panel. If the acceptable load levels are exceeded, warning or shut-down alerts on the panel are triggered to avoid system failures.
About NORD DRIVESYSTEMS® With more than 4,000 employees, NORD DRIVESYSTEMS has been developing, producing and selling drive technology for more than 50 years, and is one of the global leaders of full-service providers in the industry. In addition to standard drives, NORD delivers application-specific concepts and solutions for special requirements such as energy-saving drives or explosion-protected systems. In financial year 2017, annual sales amounted to $781 million. NORD now has subsidiaries and sales partners in 98 countries worldwide. The dense sales and service network guarantees optimal availability, enabling short delivery times and customer-oriented service. NORD produces a very diverse range of drives for torques from 88 to more than 2.2 million lb-in, provides electric motors in the power range of 0.16 to 1,341 HP, and manufactures frequency inverters with the required power electronics of up to 215 HP. Inverter solutions are available for conventional control cabinet installations as well as for decentralized, fully-integrated drive units.
NORD Gear | PO Box 367 | 800 Nord Dr. | Waunakee, WI 53597
Thomas McLaughlin
Phone: 608-849-7300 x 2957
Fax: - Thomas.McLaughlin@nord.com
Getriebebau NORD GmbH & Co. KG
Getriebebau-Nord-Straße 1
22941 Bargteheide/Hamburg
Germany
Jörg NIERMANN
Phone: +49 45 32 / 2 89 -0
Fax: +49 45 32 / 2 89 -22 53
Joerg.Niermann@nord.com
More from Optics & Photonics