New Tornado Orbital Wrapping Machine Eliminates the Need for Wooden Crates
Press Release Summary: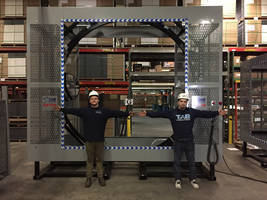 The Tornado Orbital Wrapping Machine features a wrapping ring that spans 130 in. in diameter. It can accommodate imaging machinery measuring 13.2 ft x 6.25 ft x 7.3 ft (L x W x H). The unit provides multiple layers of 360 degrees plastic film wrapping around and under the pallet. The unitized load of the wrapper resists shifting in transit for improving protection. It is offered in 13 ft tall and slim profile of 4.9 ft dimensions.
---
Original Press Release:
New Orbital Wrapping Machine Breaks Record
Custom TAB Wrapper Tornado Is Company's Largest, Spans More than 11 Feet
Reading, PA: Packaging machinery manufacturer TAB Industries, LLC, Reading, Pa. (www.tabwrapper.com, Fabtech booth #B6032), has delivered its largest TAB Wrapper Tornado orbital wrapper to date. Featuring a wrapping ring that spans 130 inches in diameter, the new TAB Wrapper breaks the company's record 115-inch diameter that had stood for more than two years. Custom-designed and manufactured in the company's Reading, Pa. headquarters, the oversized, orbital stretch-wrapper was developed to allow an imaging machinery manufacturer to ship its palletized loads over the road wrapped only in plastic film, eliminating the use of wooden crates and their associated labor, time and materials costs. Operating with the pallet raised on a forklift, the semi-automatic TAB Wrapper Tornado wraps multiple layers of plastic film 360 degrees around and under the pallet and its load to secure the sensitive machinery to the pallet as a single, stable, unitized load that resists shifting in transit for improved product protection and assurance of acceptance upon receipt.
Scaled to accommodate the maximum dimensions of the imaging machinery, which measures 13.2' length x 6.25 width x 7.3' height, the custom TAB Wrapper Tornado stands nearly 13 feet tall yet maintains the slim profile of 4.9 feet. The new packaging machine joins the company's standard models, which offer 40-, 80- and 100-inch wrapping rings to accommodate a wide range of products on 60" x 60", 48" x 48" and 24" x 24" pallets, and on pallets of virtually infinite lengths. The company also offers a series of fully automated orbital wrapping machines.
For more information, contact TAB Industries, LLC, 2525 N. 12th Street, Reading PA 19605; 610-921-0012; info@tabwrapper.com or see www.tabwrapper.com.
Media Contact: Paul Entin at 908-479-4231, paul@eprmarketing.com or Andy Brizek at 610-921-0012, abrizek@tabindustries.com