New Thermal Printer Series for Point-of-Sale Applications
Press Release Summary: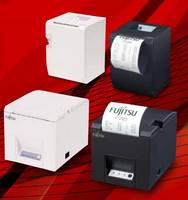 The optimum driver/firmware technology combined FP-2000 series provides fast data throughput and printing. It accepts paper thickness ranging 53-85 microns and uses a low 0.9W power consumption. The print speed is up to 400mm/second and has the ability to re-print. Other capabilities include an anti-curl paper function, dual print mode (180dpi and 203dpi), and compressed printing. 
---
Original Press Release:
Fujitsu Next-Generation FP-2000 Thermal Printers Combine High Performance and Cost Efficiency
Offer fast throughput, greyscale printing, low operating costs for Point of Sale uses
San Jose, Calif - October 24, 2018 - Fujitsu Components America has expanded its standalone thermal printer offering with the new FP-2000 series. Ten percent smaller than the FP-1000 series, the FP-2000 series provides enhanced data throughput, ultra-fast printing and features that reduce operating costs, making it a high-performance, cost-efficient printer for a variety of Point-of-Sale applications. 

Fujitsu designed the FP-2000 series to accept a wide range of paper thicknesses, 53-85 microns. Using a 53 micron paper thickness can reduce paper consumption by as much as 30%. In addition, the printer's low, 0.9W power consumption (standby mode) further reduces operating costs. 

The optimum driver/firmware technology combined with print speeds of up to 400mm/second allows for ultra-fast throughput, as quick as 2.06 seconds (the speed from pushing "Enter" to the end of 1 printed receipt, 250mm in length). 

16-level greyscale printing can be achieved using a Fujitsu-developed algorithm, which analyses the picture and determines how to print it using 16 different intensities for each pixel, all while only reducing the print speed by around 20%. This capability enables broader applications, including:
Retail checkout, coupons and other offers can be printed on the receipt at checkout.
Boarding passes can have a picture of the passenger for additional security.
Temporary entry badges can be more secure with a picture quickly printed on them.
Gaming, where coupons of winnings are issued to reduce the amount of cash being handled.
This feature-rich printer series also includes the ability to re-print, a black mark sensor, an anti-curl paper function, dual print mode (180dpi and 203dpi), compressed printing, and is backward compatible with similar products in the market through software emulation. 

In addition to the industry-standard RS232, LAN, wireless LAN, and USB interfaces, the optional Bluetooth® interface is compatible with both iOS and non-IOS products via a simple software setting. 

Fujitsu's FP-2000 family consists of three versions: the flagship ultra-high-speed FP-2200 with print speeds of up to 400mm/s; the mid-range, 300mm/s FP-2100; and the entry-level, 230mm/s FP-2000. Fujitsu also offers a variety of printer mechanisms for additional OEM designs.
For more information: http://www.fujitsu.com/downloads/MICRO/fcai/thermal-printers/fp-2000.pdf
About Fujitsu Components America, Inc.
Fujitsu Components America, Inc. markets and distributes electronic and system components and sub-systems throughout North and South America. Products include relays, connectors, input and pointing devices, touch panels, thermal printers, and wireless modules. The company is headquartered at 2290 North First Street, Suite 212, San Jose, CA 95131. For product information, contact FCAI via telephone at 1-800-380-0059 or by email at components@us.fujitsu.com.  
For more information, please see: us.fujitsu.com/components
More from Architectural & Civil Engineering Products