New TGA330 Series Power Adapters Meets IEC 62368-1 Standards and are RoHS Compliant
Press Release Summary: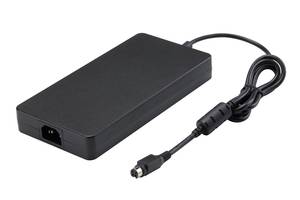 Achieves power density greater than 100W/cubic in. and has operating temperature ranging from 0°C to +70°C
Operating at a 90 to 264 VAC universal input and supports operating altitudes up to 5,000 meters
Measuring 7.87" (L) by 3.94" (W) by 1.06" (H) size and is available with either a 19.5V or 24V output
---
Original Press Release:
TRUMPower Releases 2.2x Higher Power Density 330W GaN FET AC/DC Power Adapter Meeting Latest 62368-1 Standards
September 2019 — Santa Clara, California, USA — Tumbler Technologies + TRUMPower introduces its new TGA330 series power adapters which achieves a power density greater than 100W/cubic inch. The new line addresses the need for compact 330W solutions for industrial and ITE applications. Using the power supply allows for early compliance to the new IEC 62368-1 hazard-based, performance-oriented standards, which will be replacing the current IEC 60950-1 safety standards on December 20, 2020.
The new TGA330 series comes in a slim profile of 7.87" (L) by 3.94" (W) by 1.06" (H) and is available with either a 19.5V or 24V output. The power adapter is furnished with an IEC 320/C14 AC inlet and has a standard output connector of a 4 pin DIN plug. Please contact TRUMPower to request additional connector and cable options.
Operating at a 90 to 264 VAC universal input, the series supports operating altitudes up to 5,000 meters and operating temperatures between 0°C to +70°C ambient, while derating linearly from 100% load at +40°C to 60% load at +70°C. The power supply is also equipped with standard over current, over temperature, and over voltage protections. It has 300,000 hours-minimum MTBF at full load, 25°C ambient, calculated per SR332, making it a highly reliable power supply.
The power supply series carries the CE marking, is RoHS compliant, and is approved by UL/cUL and TUV to the latest ITE standards, including UL/EN/IEC 62368-1, CSA 22.2 No. 62368-1. The power adapter complies with EMC and immunity standards including EN 55032, CISPR 32/FCC,VCCI class B (conducted and radiated emissions), EN 61000-3-2, EN 61000-3-3, EN 61000-4-2, EN 61000-4-3, EN 61000-4-4, EN 61000-4-5, EN 61000-4-6, EN 61000-4-8, EN 61000-4-11. With a >92% efficiency @ full load, the series meets DoE Level VI and CoC Version 5 Tier 2 standards.
For more details on the TGA330 series, please visit http://trumpower.com/library/tga330.pdf or email sales@trumpower.com.
TRUMPower has been delivering excellent quality medical and industrial grade AC/DC switching power supplies and DC/DC converters since 1991. The company's medical grade power supplies range from 4W to 1200W and its line of ITE grade AC/DC power supplies range from 3W to 1400W in wall mount, desktop, open frame, and ATX PC form factors. TRUMPower can accommodate to OEM's needs, whether they are low volume or high volume power supplies, by providing prompt responses and cost-effective power solutions. As a result, it has gained a substantial number of satisfied customers over the years and continues to do so.
For more information on the company and its other products, visit www.trumpower.com or email us at wsales@TRUMPower.com
More from Mechanical Components and Assemblies