New TE-7P-MD-AM Air Motor Pump Allows for Variable Speed
Press Release Summary: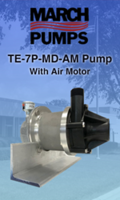 The TE-7P-MD-AM Air Motor Pump is available in polypropylene, Kynar and 316 Stainless Steel. The pump offers a maximum flow of 44 GPM at 15 ft and 1 GPM at 86 ft head. This explosion proof motor allows user to adjust pump's flow and head.
---
Original Press Release:
Magnetic Drive Pump Manufacturer, March Pump, Announces Release of New Air Motor Pump
March Pump in Glenview, Ill., expands its line of air motor pumps to include its largest air motor pump offered yet.
GLENVIEW, ILL. (PRWEB) NOVEMBER 20, 2018 - March Manufacturing recently expanded its line of magnetic drive pumps to include the TE-7P-MD-AM air motor pump in its line of offerings.
Marketing Manager Otto Zimmerman says the addition of the 7-series air motor pumpis exciting. "For years we've been asked by customers for a larger pump to run off of compressed air. After much searching, we found one," he said. Specifically, the addition of the pump allows for more applications, as "the 7-series pump practically doubles our range in terms of flow for pumps with air motors." The TE-7P-MD-AM can do a maximum flow of 44GPM at 15 feet and the highest head is 86 feet at 1GPM.
One of the advantages of an air motor is that can be considered an explosion proof motor, which is necessary in environments where there is gas or particles present that may cause an explosion with regular electrical motors. Also, unlike many explosion proof electrical motors, a compressed air motor allows for variable speed, which means the pump's flow and head can be easily adjusted.
While the TE-7P-MD-AM pump is only available in polypropylene, it can also be made in Kynar and 316 Stainless Steel. These will be listed on the website in the coming weeks. While the standard connections are pipe threaded, flange connections in Polypropylene, Kynar, and 316 Stainless Steel can also be supplied.
For details on whether this pump will accommodate a certain application, March Pump asks that clients contact them directly so that their expert team can make sure a given pump is the right t for a client.
About March Pump: March Manufacturing is a US manufacturer of centrifugal sealless magnetic drive pumps for chemical, industrial, medical, marine, solar and OEM applications. March Manufacturing was founded in 1954 as a job shop performing precision machining for the aircraft industry and operates out of Glenview, Illinois today.
More from Computer Hardware & Peripherals